"Dude Stole Millions From Him": Mike Tyson Lashing Out at Don King in Resurfaced Clip Breaks the Internet Amid Adrien Broner News; Fans Go Wild
Published 03/18/2023, 9:07 AM EDT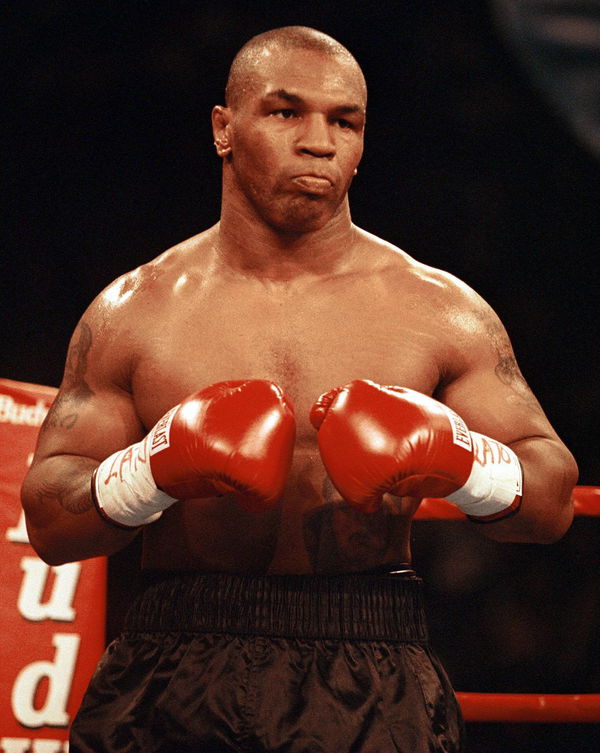 Mike Tyson had an unconventional lifestyle during his professional career. Known for his ferocious performances inside the ring, he was a different personality outside, even though he earned outrageous sums of money during his career. He failed to retain the money with him without proper spending habits and financial know-how. One personality whose name is echoed by Tyson regarding his money is Don King.
Tyson's former promoter reportedly siphoned millions of dollars under Tyson's nose. Well, one can only imagine the animosity Tyson might have in his mind for King. But, a video gives the fans a glimpse of Tyson's emotion toward the American promoter.
An old video of Tyson's outrage at seeing Don King at an event has gone viral. And reactions have been pouring in from fans on social media.
ADVERTISEMENT
Article continues below this ad
Mike Tyson's outrage at seeing Don King
Boxing Kingdom posted the video on Twitter. The clip seems to be of an event with Mike Tyson sitting at the table with the likes of Antonio Tarver, the former light heavyweight champion. Tyson was calm and in his own business, but then Don King came into the picture.
Video of a beautiful moment last year between Mike Tyson and his former promoter Don King. They seemed to have forgiven each other. Broner just signed with Don King! pic.twitter.com/xvjbGth8qI

— Boxing Kingdom (@BoxingKingdom14) March 17, 2023
As Don King walked past Mike Tyson, he patted the shoulder of the former heavyweight champion. Even though he might've done that with a good thought, Tyson did not take it in the good spirit. Without any thought, 'Iron Mike' said something to the promoter and then threw a glass of water at King as he walked off the stage.
This gesture from Tyson made the audience gasp for a minute, and Tarver looked in disbelief at what had just happened.
The relationship between Tyson and Don King was very public during his professional career. Everything seemed good between the duo in the beginning but, as the partnership deteriorated, Tyson sued King for stealing money from him and got a settlement of $14 million. But King is not the only reason Tyson went broke. He had a spending habit, and no one was there to give him financial advice.
Fans react to Tyson's Burst
As this video went viral, fans also reacted to this clip online.
Jack would've liked to see Tyson knock out the 91-year-old promoter.
Would've given me such joy to see Mike get up and uppercut king into the stratosphere

— Jack – Enic Out (@Jack_Doyle82) March 17, 2023
Kenral Linkwist believes that Tyson should never forgive Don King.
Tyson will never forgive Don King… nor should he.

— kernal Linkwist (@lindquist_h) March 17, 2023
Tony is glad that Tyson only threw water and not a jab.
😂😂 good job it was only a drink he threw & not a right hander

— Tony (@bottyy) March 17, 2023
Jim Kong summarized the relationship between Tyson and King with a one-liner.
Dude stole millions from him

— Jim Kong the illest (@Dkaz006_RS) March 17, 2023
ADVERTISEMENT
Article continues below this ad
Anthony James called King a crook.
Don kings a crook

— Anthony James ✝️🇺🇲 (@AnthonyJAguirre) March 17, 2023
ADVERTISEMENT
Article continues below this ad
What are your thoughts on Mike Tyson's reaction to Don King? Should he have done that? Let us know in the comments.
Watch This Story:  Five Insane Facts About Mike Tyson
Edited By: Sherjeel Malik