Eddie Hearn Jealous of the UFC Model – Agrees With Floyd Mayweather
Published 10/27/2020, 1:52 PM EDT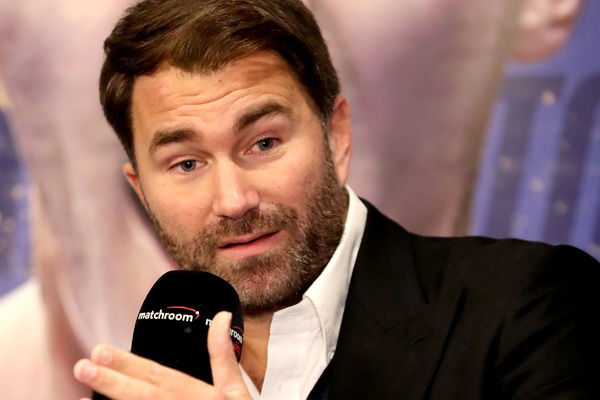 ---
---
Matchroom Boxing promoter Eddie Hearn has weighed in on there being too many belts in boxing.
ADVERTISEMENT
Article continues below this ad
Speaking to Sky Sports Boxing on YouTube, the renowned promoter gave his opinion on the subject. This came to light after the legendary boxer, Floyd Mayweather, said there were too many belts in boxing. Hearn agreed and gave his reasoning.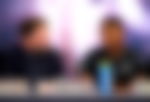 ADVERTISEMENT
Article continues below this ad
"We do. I mean it's a given and you look at the UFC model, which we are all very envious of, which is one promotional company, and one belt. And that's where I want to get to in boxing."
Hearn also said he is putting together a blueprint to put forward for this. However, he also acknowledged the significance of the belts.
"What we do have to understand is, Belts do matter. These governing bodies are steeped in history." Thus, saying that the sanctioning bodies deserve a bit of respect in the sport.
The famous promoter did not stop there. He said, "The franchise situation for me was a terrible move from the WBC. And I love Mauricio Sulaiman, he's a friend of mine. But I have to just be honest."
Hearn explained why he doesn't like the concept of franchise champions. He said it creates too many barriers for greatness and that has affected Devin Haney.
Eddie Hearn on the situation of Devin Haney.
Hearn explained how this affected WBC champion Devin Haney. He said:
"With Devin Haney, I asked him, 'what do you want to do?' He said, 'I want to fight Vasyl Lomachenko and I want to win the WBC world title.' "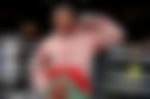 "All of a sudden, they make him [Lomachenko]  franchise champion, they make Devin Haney world champion."
Furthermore, Hearn stated that Haney never wanted that. He said:
"He wanted to beat the pound for pound number one. That's what he wanted to do."
Eddie Hearn on the current situation
ADVERTISEMENT
Article continues below this ad
Hearn congratulated Teofimo Lopez for beating Lomachenko. However, he insisted that Haney wanted to do the same. He then said:
"You have to give these young fighters, these young lions, the opportunity to try and chase these guys down. We need competitive mandataries."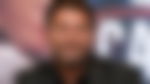 ADVERTISEMENT
Article continues below this ad
Hearn ended by saying: "For me, I don't think it's good for boxing at all, and I hope that they can put something in place." The promoter hopes that there is a system in place which says that if Haney wins his next fight against Gamboa, he will fight Teofimo Lopez.
The number of belts in boxing complicates everything in the sport. And maybe it is time to restructure the sanctioning bodies.