Eddie Hearn Lambasts Oleksandr Usyk for Disrupting the Tyson Fury-Anthony Joshua Fight
Published 01/11/2021, 3:33 AM EST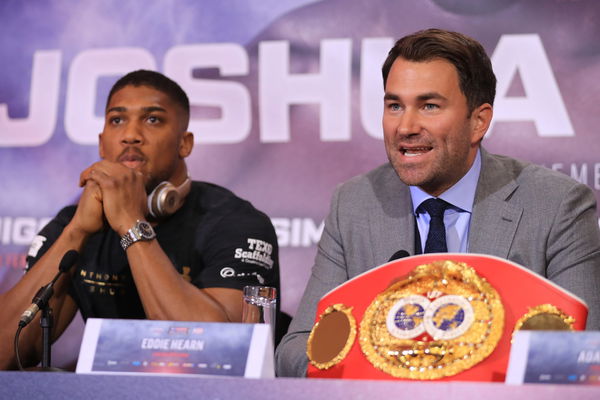 ---
---
Matchroom's Eddie Hearn has spoken about Oleksandr Usyk and his role in the Anthony Joshua-Tyson Fury fight. The Englishman did not mince his words when talking about the Ukrainian.
ADVERTISEMENT
Article continues below this ad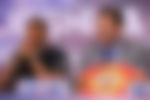 Oleksandr Usyk is mandatory for Joshua's WBO belt. Therefore, Joshua may have to fight him before he can make any other fight. Furthermore, many suspect that Usyk will not step aside to let the undisputed fight happen and will demand his shot at the belt.
ADVERTISEMENT
Article continues below this ad
Speaking to Boxing Social on YouTube, Hearn has made his views clear. He said, "This isn't really a dig at any of his team, but some people just have the idea that he should be getting millions of dollars to step aside for this fight."
Therefore, Hearn thinks that the Ukrainian's team is holding out for a pay-out. However, he went on to explain what will actually happen. "Really, what will happen is, we will apply to the WBO for the undisputed fight;"
"And if they say, 'No, you need to talk to Oleksandr Usyk', we will go to Oleksandr Usyk and we will try to make him happy to allow that fight to go on," said Hearn.
Thus these comments from the promoter suggested that they will look to agree with Usyk and his team rather than vacate.
READ:  Tyson Fury vs Anthony Joshua Could Happen in Asia – Confirms Eddie Hearn

Eddie Hearn says Oleksandr Usyk's greed is unbelievable
The promoter went on to question Usyk's desire to stop the fight and said, "Do you really want to stop this fight from happening? Now you have to be respected because you're in the mandatory position, but there is a solution."
Hearn re-iterated that the fight will happen regardless of Usyk. "I've said before, this fight between Fury and AJ will happen with all the belts or not one belt at all."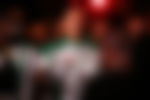 "The problem is when there's a big fight like this, every one it's almost like… I've got to get my words right here… The greed is unbelievable," said Hearn. 
ADVERTISEMENT
Article continues below this ad
However, he believes Usyk's spot will not affect the two fights from happening; both will go ahead regardless of the Ukrainian. Thus, this is good news for fans since it is now clear that Anthony Joshua's mandatory will not affect the fight with Tyson Fury.
ADVERTISEMENT
Article continues below this ad
READ: Fury vs Joshua: Eddie Hearn Makes an Upsetting Announcement for UK Boxing Fans