Eddie Hearn Says Dillian Whyte's "Career is on the Line" for the Rematch
Published 09/17/2020, 1:46 AM EDT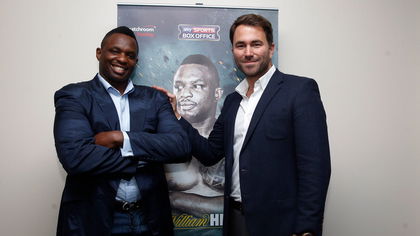 ---
---
After getting brutally knocked out in his last fight, which took place in August, heavyweight contender Dillian Whyte got a chance to redeem himself. Promoter Eddie Hearn has announced that the rematch between Whyte and Alexander Povetkin is set to take place on November 21 this year.
ADVERTISEMENT
Article continues below this ad
In an interview with Sky Sports Boxing, Hearn talked about Whyte becoming mandatory for the WBC title if he wins the Povetkin rematch. He said, "Well, Alexander Povetkin is mandatory to Tyson Fury, and the winner of this fight will be mandatory to Tyson Fury, it's just a case of when.
"You know Dillian Whyte had that date locked in, now if he beats Povetkin he'll be pushing for that date to be reinstated. We'll see where that goes but, to be honest, that's in Dillian Whyte's mind, that's not in my mind. My mind is victory only, because the world championship fight will come, but if you lose this fight, Dillian Whyte you can forget about that.
ADVERTISEMENT
Article continues below this ad
"You can take the world title challenge and sling it in the bin because you must beat Alexander Povetkin on November 21st. And all of a sudden the position he was in. We approach a fight now where, as I said, his world championship career is on the line," Hearn added.
Is Dillian Whyte facing Alexander Povetkin too soon?
With the rematch set so early after the first, it will surely be a huge risk for Whyte going in. There is so much more on the line for him than it is for Povetkin, who wasn't in title contention before. So even if he loses the fight, he will be going back to where he started. Not a big deal, provided he is at the tail-end of his career now.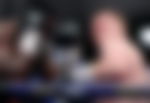 ADVERTISEMENT
Article continues below this ad
As far as Dillian Whyte is concerned, he is much younger and has a lot to give in his career. Losing this bout once again could prove catastrophic for his career. It could mean that his hopes of winning a title will be flushed down the drain forever. Also, Whyte's name will not be put amongst the elite heavyweights any more.
Although it is commendable that Whyte — after suffering such a devastating loss — wants to get back and avenge it, there is no way around brain damage. The human brain is a very tender organ and is not meant to take much damage. One is advised to take time off and rest to recover from such damage.
Going into a rematch so early might not be the best decision for Whyte since there will be a high chance of it happening again. With that being said, Whyte himself seems very confident going into this fight, and no one knows the shape he's in better than him. So it's just a matter of time till we find out how smart the decision really was.
ADVERTISEMENT
Article continues below this ad