Efe Ajagba vs Frank Sanchez Stats: Height, Weight, Age, Reach, Net Worth
Published 10/09/2021, 4:51 PM EDT
---
---
Hours away from the Wilder vs Fury 3 event, fans are now already on the edge of their seats to watch the event unfold. Deontay Wilder and Tyson Fury are now all set to headline this mega event. The main card and the undercard are both stacked. Among other fights, fans might want to keep an eye out for the co-main event as well – Efe Ajagba vs Frank Sanchez.
ADVERTISEMENT
Article continues below this ad
Today, boxing needs the toughest to face the toughest; this fight along with the rest of the main card offers exactly that. Efe Ajagba and his Cuban opponent could possibly even steal the spotlight on fight night.
ADVERTISEMENT
Article continues below this ad
The main card consists of four extremely competitive heavyweight fights, including the final Wilder vs Fury mega bout.
Tyson Fury vs. Deontay Wilder, 12 rounds, heavyweight
Efe Ajagba vs. Frank Sanchez, 10 rounds, heavyweight
Robert Helenius vs. Adam Kownacki, 12 rounds, heavyweight
Jared Anderson vs. Vladimir Tereshkin, 8 rounds, heavyweight
Efe Ajagba vs Frank Sanchez – Stats, Net Worth and Prediction
Here's a detailed comparison of Efe Ajagba and Frank Sanchez in terms of age, weight, height, reach, and even net worth. This piece also includes a final prediction for the Wilder-Fury 3 co-main event.
Age, Record, Weight, Height, and Reach
Frank Sanchez kicked off his amateur boxing career in 2009 and turned pro in 2017. As an amateur, the Cuban heavyweight racked up a record of 41 wins (1 KO) and 12 losses. After turning pro, Sanchez has fought 19 times (18-0-0, 1 NC) and to date, remains undefeated.
Today, 'The Cuban Flash' is 29 years old and is now all set to fight his toughest opponent yet, Efe Ajagba. Sanchez will step into the ring with a 78-inch reach and 6 feet 4 inches in height. He is coming in heavier than usual at 240 lbs.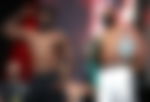 On the other hand, Efe Ajagba has not had an extensive amateur career. He started as an amateur in 2014 and turned pro in 2017.
While he suffered two losses in 14 total amateur bouts, he is currently undefeated with 15 straight wins (12 KOs) as a pro-boxer.
27-year-old Ajagba weighed into this event slightly lighter than Sanchez at 237 lbs. He holds a significant height and reach advantage over his opponent; he stands tall at 6 feet 6 inches and has an 85-inch reach as well.
Net Worth 2021: Ajagba vs Sanchez
While Frank Sanchez's net worth cannot be pinned down to a fixed figure, Celebsagewiki.com suggests the Cuban fighter's net worth in 2021 ranges between $1 million and $5 million.
On the other hand, Efe Ajagba's 2021 net worth reportedly stands at $1.5 million according to Allfamousbirthday.com.
Efe Ajagba vs Frank Sanchez: Final Prediction
While the records show that Frank Sanchez has much more experience as an amateur as well as a pro-boxer. However, it all ultimately comes down to the skills.
In April 2021, Efe Ajagba fought Brian Howard; showed a front-foot-heavy approach, used his jab extensively to create and maintain distance throughout to land his ultimate big right hand.
The fighter from Nigeria showed awkward movement in clinches, a general lack of defense, head, and in-ring movement. Ajagba ultimately ended this fight with an early KO.
On the other hand, Frank Sanchez is coming off a TD win over Nagy Aguilera in May. Much like Ajagba, even he used his jab extensively to create and maintain distance and block Aguilera from entering the pocket.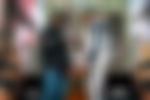 Ajagba and Sanchez share similar styles; however, the Cuban has more agility in his movement show and shows better defense with his usual 'hands-down approach'.
ADVERTISEMENT
Article continues below this ad
Ajagba might try to capitalize on his height and reach by using his jab to create distance. This will allow him to land his overhand right.
However, Sanchez is more agile in his striking, movement, and defense; this will allow him to close the distance and use his own one-punch knockout power to his advantage.
This could be a very close fight and it could very easily go either way. However, the most likely outcome of this fight could be Frank Sanchez winning by unanimous decision.
ADVERTISEMENT
Article continues below this ad