Evander Holyfield Offers to Replace Oscar De La Hoya on September 11
Published 09/03/2021, 3:31 PM EDT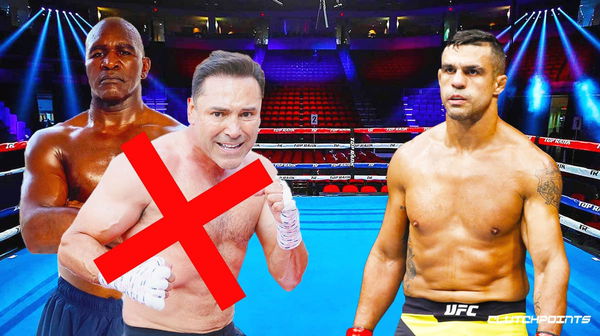 ---
---
The much-awaited official comeback of Oscar De La Hoya against Vitor Belfort has now been called off. TMZ just reported that the 48-year-old has now been ruled out of this sanctioned professional boxing matchup against the former UFC champion due to a COVID-19 positive test.
ADVERTISEMENT
Article continues below this ad
However, new reports suggest Vitor Belfort will stay on the card to face the former undisputed cruiserweight and heavyweight champion, Evander Holyfield.
ADVERTISEMENT
Article continues below this ad
While fans were excited to see Oscar De La Hoya finally make his return to the ring, Evander Holyfield stepping as a last-minute replacement could be equally exciting, if not more.
This matchup is not as odd as one might make it out to be; Vitor Belfort had announced in June that he wanted to face the 58-year-old boxing icon in December after defeating Oscar De La Hoya in September.
With Holyfield stepping in as a last-minute replacement, Vitor Belfort might have to make extreme last-minute adjustments to adapt to the 58-year-old's fighting style and in-ring approaches. Similarly, Evander Holyfield will need to fast-track his preparations for facing the former UFC champion.
Here's an Evander Holyfield vs Vitor Belfort fight preview to make sense of what this fight might look like-
Possibly one of the oddest matchups of all time
Evander Holyfield is a former undisputed cruiserweight and heavyweight pro-boxing champion. He has faced the likes of George Foreman, Mike Tyson, and even Lennox Lewis.
Vitor Belfort is well aware of who he is stepping in the ring with and believes he can take on Holyfield. Despite his decorated pro-boxing record, Belfort understands he is now 58-years-old and that his best days are behind him.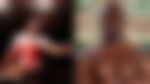 The 44-year-old is coming off a UFC fight against Lyoto Machida in 2018. Whereas, Evander Holyfield has not fought in over a decade. He last fought Brian Nielsen in 2011.
This is possibly one of the oddest matchups in combat sports. It would be nearly impossible to predict the outcome until the two actually step into the ring. But before the two actually face-off inside the squared circle, there are obvious differences between the two in terms of height, weight, age, and reach.
Evander Holyfield vs Vitor Belfort – Fight Preview
ADVERTISEMENT
Article continues below this ad
It is still not known whether there will be a new catchweight limit for this fight or if it will continue at 185 lbs. During his prime, Holyfield walked around at 205 lbs (98 kgs). Vitor Belfort competed at the 185 lbs mark in the UFC. Holyfield will hold an advantage in terms of weight, height, and even reach.
Evander Holyfield stands tall at 6 feet 2½ inches, has a 78-inch reach. On the other hand, Belfort is 6 feet tall and has a 74-inch arm reach. Being the heavier, taller fighter with a longer reach, 'The Real Deal' Holyfield could try to use his jab to create and maintain distance at all times. This will allow him to land back-to-back jabs and counter crosses and hooks, while also blocking Belfort from fighting from inside the pocket.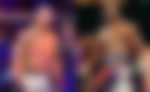 ADVERTISEMENT
Article continues below this ad
To counter such an approach, Vitor Belfort will have to be on top of his game. Agility in footwork, head movement, and striking could help him close into the gap without being clipped. The 44-year-old former UFC champion is known for his vicious knockouts inside the octagon. Being the younger fighter, he might have a better chance at landing big shots while also being active on his feet.
However, not much is known about Holyfield's current form. It will be interesting to see if the 58-year-old can dominate and control his opponent in the fight. A win over Belfort could even open doors to a mega rematch between Holyfield and Tyson. A win could create new opportunities for Vitor Belfort as well.