Evander Holyfield Open to Fighting Ex-Training Partner Jake Paul – 'I'd Show People What Would Happen'
Published 05/13/2021, 7:00 AM EDT
---
---
YouTuber turned boxer Jake Paul has divided opinion among boxing fans and fighters. While many have questioned his involvement in the sport, fighters have shown their interest to put an end to it all. And Evander Holyfield is the latest to show his willingness to face Jake Paul.
ADVERTISEMENT
Article continues below this ad
The former heavyweight champion of the world trained with Paul ahead of his bout against Ben Askren. Furthermore, Holyfield even admitted that Paul can fight, and is not a pretend fighter. However, 'The Real Deal' has now revealed what it would take to face 'The Problem Child.'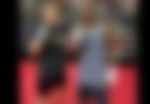 ADVERTISEMENT
Article continues below this ad
The 44-10-2 boxer spoke to The Sun and gave his honest take on Paul. Holyfield said, "They are not fighting in an association which is being operated by a union such as the WBC, IBF." He then added, "The thing is it's about ego what he's doing. People he wants to fight, if people agree to fight him, they know he's got all these followers."
This comment from Holyfield explained why Paul attracts big-name fighters. 'The Real Deal' then confirmed, "And if he believes he can beat me, and he gave me enough money, oh, yes, I'd get in the ring with him. And I'd show people what would happen."
Would Jake Paul face Evander Holyfield?
The comments from the former heavyweight champion made no secret of his confidence of his in beating Paul if they ever entered the ring. However, the real question is, would Paul entertain a fight against Holyfield?
'The Problem Child' has only targeted retired fighters. Therefore, Holyfield would fit the bill perfectly. However, unlike Askren (a non-boxer) or Paul's other targets, Holyfield retired back in 2011. Thus, it would be too much of a stretch.
ADVERTISEMENT
Article continues below this ad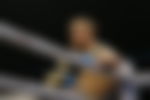 Paul has shown his desire to fight professional fights; Holyfield will only fight exhibition bouts. In addition, it will not sell the same way Paul's other fights have sold since there will be limited trash-talk and drama.
Therefore, it will be difficult for Paul to offer the former heavyweight champion the same money, and thus, it is unlikely that we will see Jake Paul vs. Evander Holyfield.
ADVERTISEMENT
Article continues below this ad
What do you make of these comments from Evander Holyfield? Do you think Jake Paul would entertain a fight against him?