Fit Andy Ruiz Jr. Looking To Make a Serious Come Back
Published 06/21/2020, 12:02 PM CDT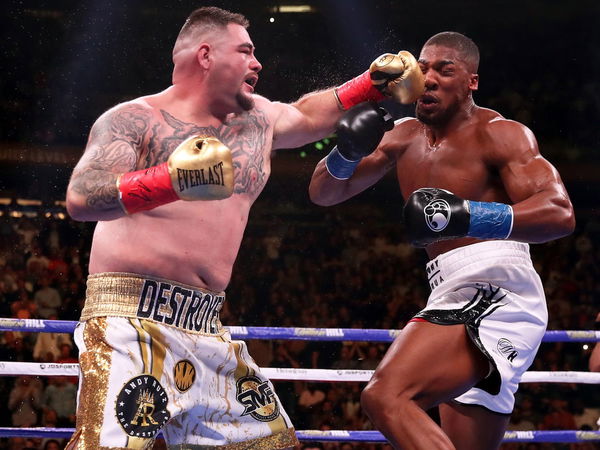 ---
---
Heavyweight boxer Andy Ruiz jr. is looking got make a strong comeback, after witnessing several disappointments over the past year. Ruiz posted a picture on social media and looked visibly similar since last time around.
ADVERTISEMENT
Article continues below this ad
Ruiz Jr, shocked the world, by defeating Anthony Joshua. Andy  Ruiz pulled off one of the biggest upsets boxing has ever witnessed by knocking out Joshua.
ADVERTISEMENT
Article continues below this ad
READ : "The WBC is in The Process Of Contacting Every Champion"- Tyson Fury Under Pressure From WBC To Face Dillian Whyte
Andy Ruiz is looking to make a serious come back
However, Ruiz's career has gone downhill ever since. After, his big win Ruiz admitted he partied, and lost focus of what was ahead of him-the rematch.
Ruiz weighed in considerably more during the fight and was outboxed from the very start. Joshua took control of the fight, and despite getting caught a couple of times, Joshua completely deserved the win.
"I think I ate everything… EVERYTHING… that's why I gained so much weight.
"I was having too much fun, I was celebrating too much.
"Even out of shape, even the way that I was training back and forth (between Mexico and California) … f******, I did pretty good, dude! I did pretty good!
"But, I wish I had taken it more seriously," said Ruiz jr. to TMZ back in 2019.
ADVERTISEMENT
Article continues below this ad
To make matters worse, Ruiz got rid of his long time coach and was heavily criticized by his trainer. His coach pointed out that Ruiz's lack of ambition and discipline was the reason for his downfall.
However, Ruiz has seemed to turn things around and is looking fit and strong. Ruiz revealed he's looking to make a serious comeback and revealed his intentions of securing the titles.
Perhaps, Ruiz could've accepted a fight against Dillian Whyte, who's promoted by the legendary Eddie Hearn. A fight against Whyte would've given him a chance for a mandatory bout against Tyson Fury.
With Ruiz looking to make a serious comeback, fight fans are waiting to see who Ruiz faces next.
ADVERTISEMENT
Article continues below this ad