Floyd Mayweather in Talks to Buy a Whopping $2.6 Million Maybach
Published 03/02/2021, 8:00 PM EST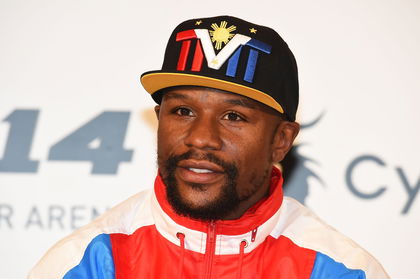 ---
---
Floyd Mayweather ranks among the best pugilists to ever step inside the squared circle. Nobody in the sport could achieve what Mayweather did.
ADVERTISEMENT
Article continues below this ad
Not only that, but Mayweather is also the wealthiest boxer of all time and encashes cosmic paychecks. 'Pretty Boy' never fails to boast his wealth in form of exuberant mansions, watches, cars, and more.
That said, Mayweather is in talks to add another expensive possession to his garage, which is the lush 2009 Maybach 62S Landaulet, featuring a V12 twin-turbo engine with 620 horsepower.
ADVERTISEMENT
Article continues below this ad
According to TMZ Sports, there are only 8 Maybach produced in the world yet, and 3 of them are in the United States. Out of those three, 2 belong to Drake and DJ Khaled.
Mayweather has been hunting for this car for a while. But he's still far from actually buying this car, as there's a bidding war between him and a high-profile rap star.
The bidding is already over $2 million, and the seller is asking for a massive $2.6 million. 'Money' is waiting for the rapper to shell out his ultimate offer for this luxurious piece so that he doesn't end up paying more than he's destined to.
But even if it strains Mayweather's pocket to an extent, he won't really have a problem buying it. He has remained a fan of ultra-rich items that add up to his lifestyle, and he doesn't walk away without buying those priced items.
The undefeated boxer will try everything to add this super-lush Maybach into his garage as soon as he can.
Read – VIDEO: Ijaz Ahmed Attempts to Replicate Mike Tyson's Iconic "Spinal" Moment After Defeating Kaisy Khademi
Floyd Mayweather and his exorbitant spendings
Mayweather is reported to have earned a billion dollars throughout his career. He's a fan of utilizing that money for maintaining his rich lifestyle by adding properties and many more assets.
He spends countless money on buying properties in and around America. Recently, he bought a $25 million house in Beverly Hills, California. This is not the only property he owns, as the list of his high-priced mansions goes on and on.
ADVERTISEMENT
Article continues below this ad
Also, Mayweather has spent around £20million on just his charismatic car collection.
'Money' constantly gifts himself and his kids these expensive objects, and he still continues to do so. None of the boxers could match Mayweather's lifestyle and the way he stays active with the same.
Can Mayweather buy his dreamy Maybach car?
ADVERTISEMENT
Article continues below this ad
Read – 'I'm Not Scared of No Fighter' – Oscar Valdez Sends a Message to Shakur Stevenson