Floyd Mayweather Not Guaranteed $100 Million Against Logan Paul, It's Just a Projected Number
Published 03/22/2021, 9:04 AM EDT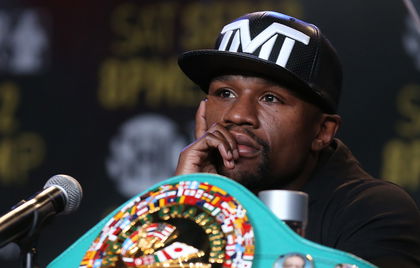 ---
---
Floyd Mayweather vs. Logan Paul is a hot topic in the sport of boxing right now. The two have defended their choices repeatedly; however, most of the boxing community has criticized the event. So let's look at the reality of Mayweather's earnings for the fight.
ADVERTISEMENT
Article continues below this ad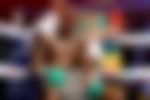 Recently, the champion announced he would make $100 million from that bout. He used this as an example to say why he prefers fighting Logan Paul rather than an active professional boxer. However, this is not the case for the former champion.
ADVERTISEMENT
Article continues below this ad
'Money Mayweather' is the richest boxer the sport has seen. And when they announced the exhibition fight, it was clear that 'TBE' took the fight for the easy pay-day. However, making $100 million against an internet sensation seems far-fetched even for Mayweather.
The former multi-weight champion made that kind of money in the prime of his career. He earned similar fees in his bouts against Manny Pacquiao, Canelo Alvarez, Conor McGregor, and others. However, in those fights, his opponents were high-profile boxers/combat sports stars.
Therefore, it was easier and realistic for Mayweather to earn nine-figure pay-days in those bouts. Unfortunately, with a record of 0-2, Logan Paul cannot boast of the same type of attraction in boxing.
READ: What Investors Can Learn From Floyd Mayweather

Other factors which may stop Floyd Mayweather from earning $100 million
So it is clear Logan Paul is not a big enough name to draw the same type of money. However, Mayweather has fought a relatively unknown fighter in Tenshin Nasukawa. In that event, 'TBE' earned a reported $9 million.
This is a far cry from the projected $100 million he teased in the video. Unfortunately for Mayweather, the situation in the world will make it harder for him to get the money he wants.
ADVERTISEMENT
Article continues below this ad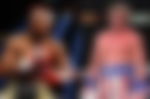 Given the implications of the pandemic, financing a huge undisputed fight with similar numbers is difficult. Thus, an exhibition bout will be even more difficult to pay for in the current situation. Moreover, the restrictions on fans attending the fight may hinder the earning of the fighters.
Thus, fans may have to wait a while before the fight actually happens. It is unlikely that the former champion will settle for any less money, and therefore, he will have to wait until an event like this is possible.
ADVERTISEMENT
Article continues below this ad