Floyd Mayweather Offers His Hand to Deontay Wilder to Beat Tyson Fury
Published 03/03/2020, 2:43 PM EST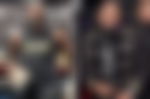 ---
---
Floyd Mayweather believes that Deontay Wilder will win if he trains him. Wilder was beaten and brutalized by Fury and seemed defenseless to the Gypsy King's attacks. Given that Floyd is the king at defensive boxing this matchup seems interesting.
ADVERTISEMENT
Article continues below this ad
Speaking during a Q and A session in Blackpool on Sunday, Floyd said:
"If I train him. If I train him I can teach him how to win.''
Now that Floyd is retired this provides an amazing opportunity for him to get the spotlight once again. The Mayweather Gym is a brand housing several of boxing's up and coming fighters. One of the most notable figures in the camp is Vidal Riley who is a celebrity boxer and coach. Moreover, Jeff  Mayweather is one of the greatest and most respected coaches in the sport with his shoulder roll technique one of the most popular defensive moves in the sport.
ADVERTISEMENT
Article continues below this ad
Deontay's defense was non-existent during the fight. He was bruised and battered as the rounds went by only to be saved by a towel in round 7. This partnership would make sense given the defensive frailties in Wilder's game.
Tyson Fury seemed to go with a similar approach as well appointing ''Sugar Hill'' as his head trainer. Fury's camp was on-point with his increase in weight, power, and intensity proving too much for Wilder to handle.
"Do You Know How Aliens Are a Million Years Ahead": Tyson Fury's Dad Taunts Anthony Joshua
Should Deontay Wilder team up with Floyd Mayweather?
ADVERTISEMENT
Article continues below this ad
A similar approach might do Deontay Wilder a world of good given the strained relationship with his camp. Despite agreeing to retain Mark Breland there is still tension around. What this incident proved to us is that a team's relationship is extremely fragile and can change at any given moment.
This partnership will be beneficial given the star-power both fighters have. Floyd is undoubtedly boxing's poster boy and ''The Bronze Bomber'' is someone with an insane following all over the sport. This would present monetary opportunities as well as a chance to further the brand.
Do you think this partnership should happen?
ADVERTISEMENT
Article continues below this ad
"Mark Was Trying to Save Him": Boxing Legend Criticizes Deontay Wilder On His Excuses