Floyd Mayweather Record: Does He Belong in the GOAT Conversation?
Published 02/17/2021, 5:30 PM EST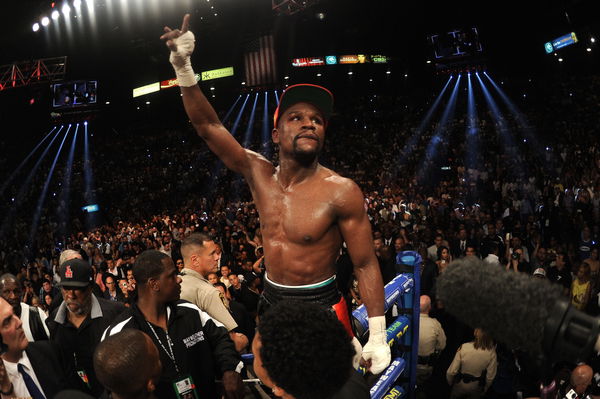 ---
---
Floyd Mayweather is a globally recognized name in boxing. The undefeated legend of the sport is one among an elite group of fighters who retired undefeated. Many consider Floyd Mayweather the greatest of all time. So does his record warrant that status?
ADVERTISEMENT
Article continues below this ad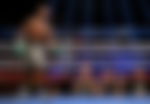 The superstar boxer retired from the sport with a perfect 50-0 record. Moreover, he achieved this almost flawlessly, often looking invincible in the ring. His defensive superiority meant his opponents could rarely land a proper punch.
ADVERTISEMENT
Article continues below this ad
Mayweather's record includes wins over some of the best boxers of his time. He beat Oscar De La Hoya, Manny Pacquiao, Shane Mosley, Ricky Hatton, and Canelo Alvarez, among others. So does this put him in the conversation for the greatest boxer?
Technically, it does. He never shied away from a fight, and, like the others in the conversation for the 'GOAT', Mayweather beat the best of his time. This puts him among the others in the conversation like Sugar Ray Robinson, Muhammad Ali, Mike Tyson, and others. If it were up to him, Mayweather would say he is the 'GOAT'.
READ: Floyd Mayweather Workout: How Does the Legend Stay in Shape Throughout the Year?

Criticisms of Floyd Mayweather and his record
Despite the almost unbelievable record, the legendary boxer still faces heaps of criticisms from fans and critics of the sport. Many suggest a perfect record doesn't warrant a mention in the conversations for the greatest of all time.
Although Mayweather may have fought the likes of Pacquiao, De La Hoya, and others, there was a pattern he followed when picking his opponent. With De La Hoya and Mosley, it was the fact that he fought them in the twilight of their career.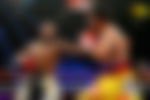 While with the likes of Hatton, he fought at welterweight rather than super-lightweight, where Hatton enjoyed most of his success. Moreover, just his mentality to pick fights based on their monetary value and not for the legacy did not go down well with the traditional boxing fans.
ADVERTISEMENT
Article continues below this ad
Fighters like Ali, Tyson, and Robinson took fights to prove a point. They fought to build their legacy. So although Mayweather never ducked out of a fight, he never fought unless it brought him a healthy profit. This is one of his biggest criticisms. One that he faces till today.
What do you make of Floyd Mayweather's boxing record? Do you think his record makes him the greatest of all time?
ADVERTISEMENT
Article continues below this ad