Floyd Mayweather Weight: At What Weight Class Will He Fight Logan Paul?
Published 05/14/2021, 8:30 PM EDT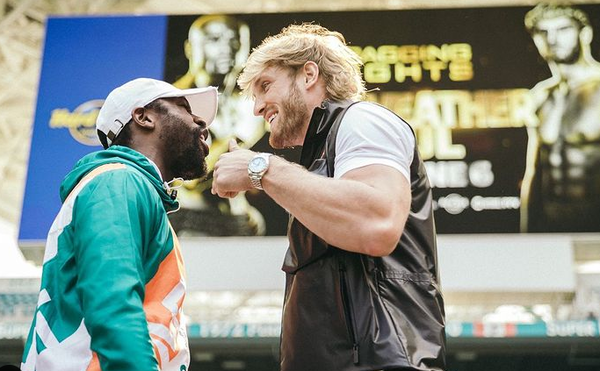 Floyd Mayweather will relinquish his 4-year-long layoff from action to take on the YouTube sensation Logan Paul in an 8-round exhibition on June 6th. While the fight has already sent the combat community into a frenzy, many cite it as a mismatch.
Boasting of a 50-0 record and world titles in 5 distinct divisions, Floyd Mayweather is one of the best boxers of all time.
Meanwhile, his upcoming rival has hardly earned any boxing accolades and the only pro fight he has ever competed in, ended with him on the wrong side of it.
ADVERTISEMENT
Article continues below this ad
Hence, Logan Paul, 0-1, cannot match Floyd Mayweather's greatness in the boxing circuit. However, there's another contradiction in the fight, i.e. their weight.
Paul and Mayweather hail from two absolutely different weight classes. So, how will they validate their collision? Here's a look at it.
Floyd Mayweather vs Logan Paul- The weight and the catch
Per several reports, the upcoming exhibition fight will be held in an open weight class. Both men are allowed to retain their natural pounds.
Since professional boxing urges both the contenders to remain in a similar weight category, the open-weight system in Mayweather vs Paul might not allure traditional fans.
Administrators have allowed Floyd Mayweather to don a maximum of 160 lbs, and Logan Paul would have a limit of 190 lbs.
Apart from that, 'The Maverick' will also enjoy a 4" reach and height advantage. Therefore, it is quite a bizarre matchup between two unevenly sized men, who hardly have any similar traits.
However, the event could still garner global attention, staging one of the most successful PPVs of all time in the sport. Despite not being an elite pugilist, Logan Paul is quite renowned. Moreover, the YouTuber made left the media of the combat sports circuit abuzz with his antics.
ADVERTISEMENT
Article continues below this ad
Several people will likely tune in, especially after the controversial press conference. In the latest face-off, Mayweather and Logan Paul got into an altercation, which also included Logan Paul's younger brother Jake Paul.
Hence, the fight has already made it to the headlines. Now, only an in-ring battle can clear the doubts from the sky. The event will take place at the Hard Rock Stadium in the midst of a live crowd. It will also be streamed live on the Showtime PPV.
Do you think Logan Paul can land an upset against Floyd Mayweather?
ADVERTISEMENT
Article continues below this ad