Floyd Mayweather's 5 Biggest Fight Purses
Published 06/01/2021, 5:33 PM EDT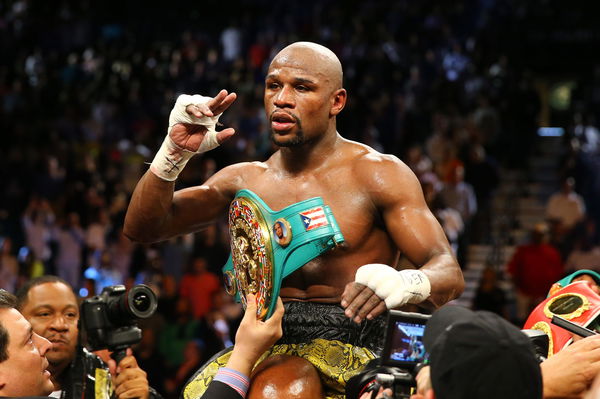 ---
---
Floyd Mayweather has shaped up his career handsomely for over two decades, attaining sheer success inside and outside the ring. While he remains unscathed in the professional ride with a 50-0 record, he's also earned some of the biggest pay-checks ever in the history of the sport. It began with his split with Top Rank in 2006, inaugurating the Mayweather Promotions for his own fights.
ADVERTISEMENT
Article continues below this ad
Mayweather saw extreme success after that and became one of the richest athletes of all time. Aged 44, he is no longer an active pugilist. However, Mayweather still appears in exhibition fights to continue collecting checks from the boxing antics.
ADVERTISEMENT
Article continues below this ad
No wonder the five-division world titlist remains the 'cash cow' and can still reign on the box office. That said, he longer needs to fight for money, but at the same time, one cannot ignore the big numbers he can attain by entering the ring.
While Mayweather continues to eye the money, here's a look at his biggest fight purses.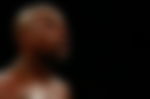 Floyd Mayweather vs Conor McGregor (2017)
The combat world lost its mind when the UFC champion made a crossover to the boxing ring and faced Floyd Mayweather in August 2017. The lucrative fight put millions into the bank account of both the contenders, but Mayweather received some serious money.
Per several reports, he was guaranteed around $100 million from that one fight, but 'Money' doubled up the numbers. According to Forbes, the unbeaten boxer claimed his 50 pro win and a whopping $275 million in one night.
Although Conor McGregor lost his professional boxing debut, he also bagged more than $100 million in the night and became the richest UFC fighter ever. It also paved the road for him to incept the Proper 12 Irish whiskey.
May-Pac- Boxing at its best (2015)
Manny Pacquiao couldn't put a dent on Mayweather's unbeaten record, but he managed to trouble the 'Money' and go till the final bell against him. Mayweather vs Pacquiao was the biggest fight of the year, and both the legends went till the final bell.
Watch Story | Watch This Story: Logan Paul's Most Viewed YouTube Videos
Attaining a 48-0 record, Mayweather had one of his biggest paydays in the ring. He earned around $180 million, per Bleacher Report. Meanwhile, 'Pac-Man' took home a reported $120 million, producing one of the most lucrative fights in the sports' history.
Mayweather accepted one more fight in the same year against Berto before hanging his gloves for two years. No wonder he always had an eye for finances.
Although it was an important fight for both mens' legacy, the money they earned might have surpassed every other feature in the fight.
Floyd Mayweather vs Canelo Alvarez (2013)
In a fight that might haunt Canelo Alvarez his whole life, Mayweather attained new heights when he took out the P4P king in 2013. The undefeated boxers meet each other in a blockbuster event and Mayweather schooled a young Alvarez.
That said, Mayweather was guaranteed $40 million, even before the fight began. According to Bleacher Report, Leonard Ellerbe, the CEO of Mayweather Promotions, revealed that the number crossed $100 million. Hence, it was a big moment for the American boxer.
On the other hand, Alvarez earned $40 million from that bout and had to depart with the maiden and only defeat of his professional career so far.
2012 and the win over Miguel Cotto
Following consecutive wins against several champions, Mayweather locked horns against Cotto in 2012. 'Money' was in his prime and was still climbing the ladders to the top.
Although he had his own promotion by then, Mayweather was still not near what he received from his last few fights.
He was guaranteed $32 million (Per SB Nation) from the fight, which is still quite handsome if compared to the other boxers. Mayweather has fought several legends on his way, and Cotto is clearly one of them.
The paycheck Mayweather received might not be exceptional for him, but it is still a big amount for a boxing clash.
Mayweather vs Maidana 2 (2014)
For the second time in his career, Mayweather faced an opponent back-to-back, when he beat Maidana once again in their rematch in 2014.
ADVERTISEMENT
Article continues below this ad
It was more special as 'Money bagged $32 million base price from the event. According to the Bleacher Report, Mayweather earned a whopping $888,888 per minute.
Meanwhile, Maris Maida received $3 million, the highest payday of his career. The actual numbers would have gone way ahead since it was a PPV blockbuster. So, Floyd Mayweather could have possibly made somewhere around $100 million in the fight.
ADVERTISEMENT
Article continues below this ad
These financial numbers grew further as Mayweather made smart investments in his personal life. However, boxing remained his primary source of money and even today, Mayweather is relevant in the sport.