"Floyd Would've Been Happy": Tyron Woodley Foils Jake Paul's Attempt to Steal His Hat
Published 08/29/2021, 12:09 PM EDT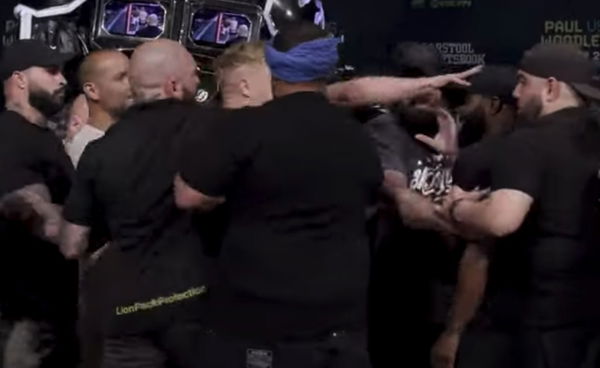 ---
---
Jake Paul and Tyron Woodley went face to face during the ceremonial weigh-ins. After all the talk, all the hype there were bound to be fireworks on stage. The Ohio-born YouTube sensation Jake Paul would not miss a chance to entertain in front of his home crowd.
ADVERTISEMENT
Article continues below this ad
Paul took every opportunity he got to spark a reaction from Tyron Woodley. Woodley seemed very calm, and Paul's antics didn't seem to bother him at all. Jake Paul weighed in at 190 pounds. The former UFC champ Tyron Woodley tipped the scales at 189.5.
ADVERTISEMENT
Article continues below this ad
The Faceoff turned out to be surprisingly rather uneventful during the start. However, things changed when Ariel Helwani went over to interview Jake ' The Problem Child' Paul. Jake talks to Helwani while eating a box of Raising Cane's chicken fingers. "Chicken fingers, Tyron's a chicken," Paul told Helwani.
Woodley, ready with his own comeback, brought over DudeWipes to give Paul. DudeWipes are baby wipes for men. Paul smacked it out of his hand and a scuffle broke out on stage when Paul went towards Tyron 'The Chosen One' Woodley and tried to grab his hat to recreate the infamous 'gotcha hat' moment.
After the press conference, Woodley went live on his Instagram and boasted about how Jake couldn't grab his hat. "Not my Hat! He tried to get mine, Floyd would've been happy coz, Whoop, pull. Everything he tried to do got shattered, every shenanigan he tried to play was not even entertained." 
What is the infamous Jake Paul Gotcha Hat moment? 
Jake Paul injected himself into some serious trouble during his brother Logan's press conference. Logan Paul and Floyd 'Money' Mayweather went face to face in a press conference on May 6 earlier this year. The press conference, meant to be just one-liners and insults thrown at each other, quickly escalated after both fighters got off stage.
ADVERTISEMENT
Article continues below this ad
All thanks to Logan Paul's younger brother Jake Paul. Jake confronted Floyd Mayweather and his entourage and called Mayweather out to fight him in the ring. After a few heated words, Jake said, "Gotcha hat", grabbed Mayweather's hat, and tried to make a break for it.
Floyd and his entourage of bodyguards are not to be messed with, as Jake quickly found out. Within seconds Floyd's guards grabbed the 'Problem Child' and gave him a few problems of their own. Photos after the brawl reveal Jake with a black eye and a torn shirt.
ADVERTISEMENT
Article continues below this ad
Jake found it pretty amusing and went on to get a 'gotcha hat' tattoo, chain, and merch. Will the YouTube sensations antics help him against Tyron Woodley during their bout on Sunday, or will Woodley teach Jake Paul a lesson?