The Secret Behind Mike Tyson's Transformation Will Shock You!
Published 05/29/2020, 12:03 PM EDT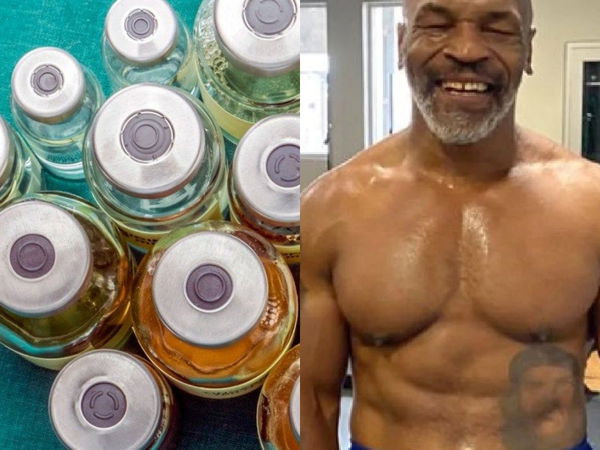 ---
---
Ever wondered how Mike Tyson went from an average human to superhuman at 53 years old? No! He did not use the "Mexican Supplements" which Joe Rogan keeps talking about. The secret is much more scientific.
ADVERTISEMENT
Article continues below this ad
A few weeks ago, Mike Tyson shook the world when he announced his return to the sport of boxing. At 53 years old, he asserted that he will compete in exhibition matches to raise money for charity.
In his training videos, Tyson looks like a young athlete with some serious heat behind his punches. Even his coach, Rafael Cordeiro, admitted that Tyson moves and punches like a boxer in his early twenties.
ADVERTISEMENT
Article continues below this ad
Did Mike Tyson use Captain America's Superhuman Steroids?
No. As mentioned above, the answer is much more scientific. On the Rock and Bells Radio Show on SiriusXM, Tyson revealed that he has been using the same stem cell treatment like Cristiano Ronaldo and Rafael Nadal to maintain an incredible physique.
"Six weeks of this and I'd be in the best shape I've ever dreamed of being in. As a matter of fact, I'm going through that process right now. And you know what else I did, I did stem-cell research."
According to Daily Star, the treatment is said to range between €5,000 (£4,500) and €25,000 (£22,500) and aims to reduce pain and inflammation by increasing the blood flow.
"As they took the blood it was red and when it came back it was almost trans fluid [sic], I could almost see through the blood, and then they injected it in me. And I've been weird ever since, I've got to get balanced now," Tyson said.
Tyson on training for his comeback fight
ADVERTISEMENT
Article continues below this ad
Furthermore, he also revealed that he would have to change his diet and do cardio work before competing again.
"So something to do is get in cardio, I would try and get two hours of cardio a day, make sure you get that stuff in. You're gonna make sure you're eating the right food. For me, it's almost like slave food. Doing what you hate to do but doing it like it's nothing. Getting up when you don't want to get up. That's what it is. It's becoming a slave to life."
Moreover, Tyson clarified that being a slave to life simply means being the best person one can be.
ADVERTISEMENT
Article continues below this ad
"When you are at the best you can possibly be is when you no longer exist and nobody talks about you. That's when you're at your best."