Former HBO broadcaster Larry Merchant reveals the aftermath of his famous spat with Floyd Mayweather
Published 03/19/2021, 12:00 PM EDT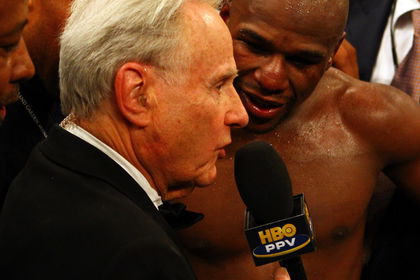 ---
---
Legendary HBO broadcaster, Larry Merchant, has opened up about his infamous altercation with Floyd Mayweather. The American revealed what happened after the first spat within the ropes of the squared circle. He also spoke about other boxers replicating Mayweather's feats.
ADVERTISEMENT
Article continues below this ad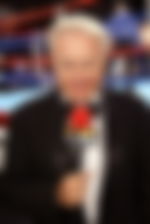 ADVERTISEMENT
Article continues below this ad
Merchant was one of boxing's prominent presenters ever since he joined in 1978. He initially came aboard as an analyst, but eventually moved up to presenting all the big PPV fights on HBO. Undoubtedly, his most famous moment came in the ring against Floyd Mayweather.
The 90-year-old has now opened up about that incident. Merchant spoke to World Boxing News and said he received an apology from Floyd 'Money' Mayweather. Subsequently, he revealed that although the young boxers bring excitement to the sport, they need to do a lot more to reach Mayweather's level.
Merchant also commented on the impact of Mayweather's commercial value. He said there's so much more money to be made in today's game than there was back in his day, thanks to different promoters.
READ: How Did Floyd Mayweather Get Rich?

What happened between Larry Merchant and Floyd Mayweather?
The altercation in the ring between Merchant and Mayweather has become one of boxing's most infamous events. So what exactly happened between the two when he interviewed him?
The incident took place after Floyd Mayweather beat Victor Ortiz in their infamous bout. On the night, many felt Mayweather had unfairly knocked him out when the two were still touching gloves. And Merchant made no secret of his opinions to Mayweather.
In addition, even the crowd began booing 'TBE' during the interview. Therefore, this showed how unsportsmanlike his actions were as it left everyone in the arena shocked.
ADVERTISEMENT
Article continues below this ad
'Money Mayweather,' however, retorted by saying Merchant knew nothing about boxing and that HBO should fire him. Merchant came back with a comment of his own and said if he were 50 years younger, he would knock out Mayweather.
Therefore, it was an unprofessional incident after a controversial bout. However, as Mayweather apologized to Merchant for his comments, it showed that what happened was all in the heat of the moment between the two.
Do you remember this altercation between Floyd Mayweather and Larry Merchant? What do you make of their spat?
ADVERTISEMENT
Article continues below this ad
READ: Canelo Alvarez: How Many Divisions Has the P4P King Conquered?