Gervonta Davis Labels Rolly Romero 'A Hypejob' Over 'Fake' Comments
Published 05/26/2022, 9:30 AM EDT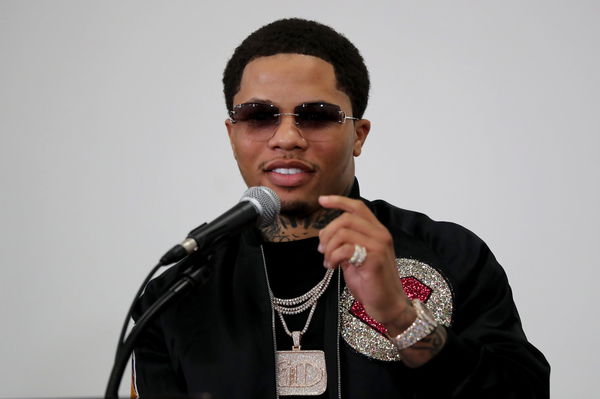 The Barclays Center in Brooklyn, New York, is ramping up for a major event in the near future. The upcoming bout between Gervonta Davis and Rolando Romero on May 28 has sparked a lot of interest in the boxing world and among fans. As we get closer to the big day, the anticipation is building at its own rate. Davis just revealed what is on his thoughts regarding the battle.
Prior to their fight, the two opponents can be seen in a lot of interviews. Tank Davis recently revealed some details about it when speaking with SHOWTIME Sports. He stated, "He(Romero) a hype job. He's trying to hype himself up to get himself into the fight I believe. I don't think he's really like, the way he is acting right now is just, I don't know, I feel like it's fake. That's what it is."
ADVERTISEMENT
Article continues below this ad
The reporter further asked, "I asked him last week and I asked him today. I said are you sticking with your prediction, he said yes. He believes he's gonna knock you out in the first round. What's your response to that ?"
Tank responded with a slight grin, "That's his prediction, my prediction is something else."
Although he didn't say much, it appears that the Baltimore prodigy is ready and anxious to return to the ring and display his strong jabs and excellent tactics.
Gervonta Davis offers a $2 million bet to Jake Paul
The Davis vs. Romero bout has already garnered a lot of attention around town. Other well-known personalities have also expressed their opinions on the subject. Popular YouTuber turned boxer Jake Paul tweeted about who he thinks will win the fight.
Tonight I got

1. David Benavidez win by KO

2. Ashton Sylve win by KO

Next weekend I got

1. Rolando Romero win by UD

— Jake Paul (@jakepaul) May 21, 2022
When Davis saw this, he tweeted back to Paul saying, "Do you wanna bet $2 million?". Apparently, he deleted the tweet after some time. But, 'The Problem Child' took a dig at this and trolled Davis.
ADVERTISEMENT
Article continues below this ad
"I pay your annual earnings in taxes," Paul retweeted. He also made a video mocking Davis about it. He said, "This tweet was deleted by the tweet author. Gervonta, man, you are a fu**ing b*tch."
WATCH THIS STORY: Best of Gervonta Davis vs Rolando Romero-Press Conference
ADVERTISEMENT
Article continues below this ad
The 27-year-old Baltimore prodigy is currently concentrating on his forthcoming battle. It was supposed to take place on December 5. However, it was postponed due to unforeseen circumstances. Nevertheless, the fight is now planned to take place on May 28, and fans are thrilled about it.
How do you feel about Davis' remark? Write it down in the comments section below.