"Gun Shy" Anthony Joshua Needs to Get His Confidence Back: Andy Ruiz Jr.
Published 12/16/2021, 3:12 PM EST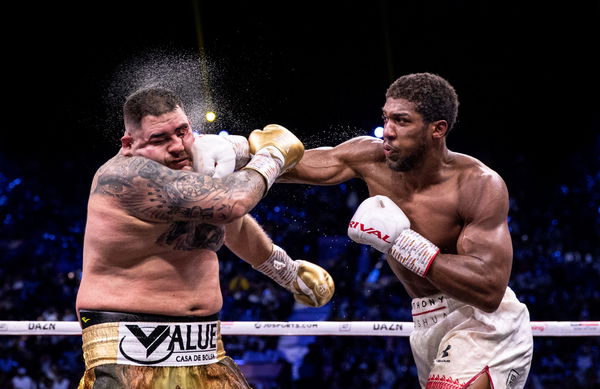 Ever since Anthony Joshua suffered his second professional fight against former undisputed cruiserweight champion, many in the boxing community have taken shots at him for not being able to defend his heavyweight throne.
From calling him a "bodybuilder" to singing "AJ is a p***y" in a packed club, Tyson Fury has been digging into his English counterpart nonstop. Moreover, Oleksandr Usyk has even suggested that he would be okay with Joshua stepping aside to let Fury and him fight for the undisputed heavyweight tag right away.
Even the man who handed him his first pro-boxing career loss, Andy Ruiz Jr., recently spoke about where AJ went wrong against Usyk and suggested that he needs to revive the confidence that he lost with his first loss.
ADVERTISEMENT
Article continues below this ad
"I wouldn't want to destroy anybody's career at all, but I can see him being gun-shy and hesitating a little bit, and I can see him getting hurt. Maybe he's a little scared of getting hurt because he doesn't want the same thing happening.
"It's normal for fighters, and I think he needs to get his confidence back. I wouldn't say I ruined him. I wouldn't want to ruin anybody's career. He is hesitating. He's thinking too much instead of going in there and being the dog," said Andy Ruiz.
Andy Ruiz Jr. completely dominated Anthony Joshua in the first fight
Right from the get-go, 'The Destroyer' established his dominance inside the ring. Anthony Joshua showcased a straightforward approach throughout the fight. He tried to use his jab to create and maintain distance; however, Ruiz Jr was able to cut through that distance with his movement and by creating angles.
They started off slowly, both trying to find openings and trying to assess each other's game plans. Anthony Joshua made the first big move by dropping Ruiz Jr with a sharp left hook. The crowds cheered on as the Englishman secured a knockdown. However, this did not throw the Mexican fighter off his game.
ADVERTISEMENT
Article continues below this ad
He got right back up and landed a big left hand on his opponent's temple. This dropped AJ and visibly shook him up. Joshua seemed worn out after the knockdown and fought along the ropes. Ruiz Jr picked up on this and knocked him down yet again with a straight right hand.
When it seemed like Joshua was beginning to regain his strength and composure, Ruiz Jr closed the night with two more knockdowns in round 7. Anthony Joshua had never been challenged like that, and Andy Ruiz straight-up dominated him in all seven rounds.
ADVERTISEMENT
Article continues below this ad
After seven rounds of action, Andy Ruiz Jr bagged a victory by TKO over the heavyweight champion. The judge's official scorecards showed that the Mexican contender led the fight all along.