"He Lives for Fights" – Veteran MMA Coach Shares His Experience of Working With Mike Tyson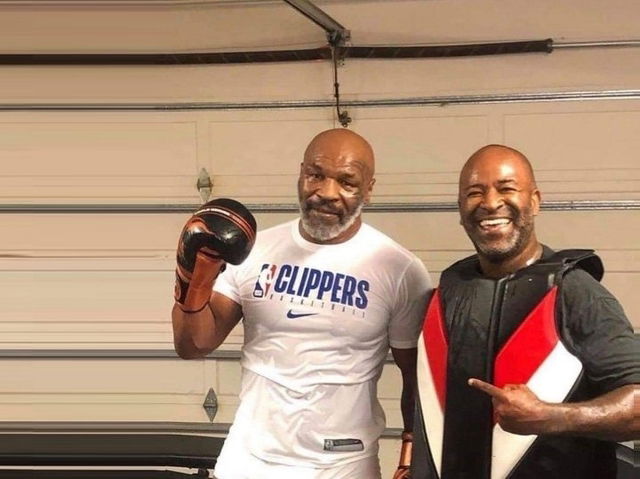 Legendary MMA coach Rafael Cordeiro has trained a legion of mixed martial artists. The list includes, but isn't limited to, former world champions such as Wanderlei Silva, Lyoto Machida, Fabricio Werdum, and Rafael dos Anjos. However, when he had the opportunity to train Mike Tyson for his return, it was a completely unprecedented experience.
The Kings MMA founder and head coach and started working with Tyson earlier this year. What started as a usual routine of hitting the mitts has now turned into serious daily training. This is because the 54-year old former world champ will soon return to the boxing ring. Tyson is set to go up against Roy Jones Jr. on Nov. 28.
While Cordeiro has no shortage of training world-class athletes, holding the mitts for Tyson still blew his mind. He had no idea what to expect from the former 'Baddest Man on the Planet'.
"My heart was like, 'My Lord,' man," Cordeiro told MMA Junkie. "When I held mitts for Mike Tyson, I didn't know what to expect for a lot of reasons."
Rafael Cordeiro says he has learned a lot from training with Mike Tyson
Rafael Cordeiro is one of the most respected coaches in the business. Apart from his stellar resume, he also commands tons of respect from the people around the sport. Even Mike Tyson said that the reason why he started training with him was because of the environment that he created in the gym.
The veteran coach, however, has had a two-way experience with Tyson. Not only has he contributed to the latter's return, but also learned a lot himself along the way.
"I was there and then he came like 'Let's do it,' and I wrapped his hands and it was great to see the pure techniques," Cordeiro said. "Everything you've seen on TV, I have an opportunity to see in front of me and it was great to see one of the best of all time in front of me show his skills, and I learned a lot.
"We worked together for five months, and I can tell all the time that I went there, I learned more than I taught because this guy is the history of the fight. When he talks about fights, he talks with feelings. … He lives for fights."
The fight between Mike Tyson and Roy Jones Jr. was initially planned for Sept. 12. However, it was delayed in order to achieve a higher PPV number. While the fight is billed as an exhibition, Tyson is leaving no stone unturned in preparing for the same. Given his newfound tenacity and drive, fans are expecting a show from the two former champs.