"He Meant The World to Me"- Floyd Mayweather Pays Tribute to His Uncle Roger
Published 03/18/2020, 9:41 AM EDT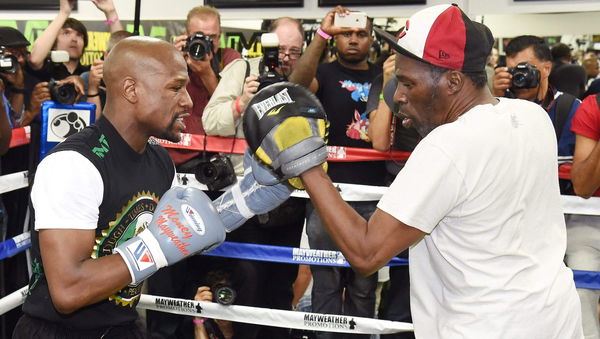 Floyd Mayweather has paid tribute to his uncle, Roger Mayweather, who died after a long battle with diabetes. He was 58.
"One of the most important people in my life inside and outside of the ring," Floyd Mayweather described his uncle in tribute.
Roger Mayweather, who won world titles at super featherweight and super lightweight while earning 59 wins in a 72-fight professional career, had also trained his nephew for 34 of his 50 wins during his career.
ADVERTISEMENT
Article continues below this ad
In a career spanning close to 20 years, Roger had some prize scalps in Julio Cesar Chavez and Pernell Whitaker.
Floyd Mayweather, in a statement released by Mayweather Promotions, said:
"Roger was a great champion and one of the best trainers in boxing."
"Unfortunately, his health was failing him for several years and now he can finally rest in peace."
"Roger meant the world to me, my father Floyd Sr., my uncle Jeff, our whole family, everyone in and around the Mayweather Boxing gym and the entire boxing world."
"It is a terrible loss to all of us."
"We are thankful for all the love and well-wishes we have already received as word travelled about Roger's passing."
After the news of his death, tributes started to pour in for Roger, who was affectionately called "Black Mamba", from within the sports fraternity.
"An opponent in the ring, a great friend, coach and person outside of it. I regret the loss of one of boxing's greats. I will always have you in my heart," Chavez wrote on twitter.
The news of Roger's death comes not long after Floyd's ex-girlfriend Josie Harris was revealed to have been found dead inside her car.
Reportedly, Harris was found unresponsive inside a vehicle parked in the driveway of her home in California.
She was pronounced dead at the scene.
There was no evidence of drugs or suicide at the scene where Harris was found responsive on March 10 in her vehicle, reports TMZ.
ADVERTISEMENT
Article continues below this ad
TMZ further reports that it was one of her children who discovered her in the driveway of her Valencia, California home.
Floyd posted a series of 13 photos of Harris on Instagram captioning them with phrases "My Kiss", "My Baby", "My Friend" and "My sunshine."
ADVERTISEMENT
Article continues below this ad
Their three children, Koraun, 20, and Zion, 18, and daughter Jirah, 15, were also represented in the tribute.