Henry Cejudo Feels Floyd Mayweather Can't Help Tyron Woodley: "Jake Paul's Going To Stop Him"
Published 08/02/2021, 12:58 AM EDT
---
---
Fans of boxing often find themselves stuck in a predicament whenever asked to pick between Jake Paul and Tyron Woodley. Purists in the pugilism community have still not accepted the YouTube star as a legitimate in-ring athlete. However, compared to Tyron Woodley, 'The Problem Child' is the one with more experience in boxing. With knockouts over Nate Robinson and Ben Askren, Paul has shown strength and pro-level striking abilities.
ADVERTISEMENT
Article continues below this ad
Watch this story – Boxing schedule August 2021: Spence Jr. vs. Pacquiao, Paul vs. Woodley, and More
On the other hand, Tyron Woodley is a seasoned mixed martial artist and a five-time former UFC welterweight champion. Fans of the octagon can make the case that 'The Chosen One' is notorious for his knockout abilities. If the former UFC champion brings in that heavy wide-angled style of striking to the ring, Jake Paul could counter his approach. However, with recent social media updates about him training directly with Floyd Mayweather, it seems Tyron Woodley is looking to change that narrative in his boxing debut.
ADVERTISEMENT
Article continues below this ad
Another UFC champion Henry Cejudo thinks that Woodley's training with boxing's greatest athlete might not do much for him. Surprisingly, Triple C does not think that his UFC co-fighter has what it takes to bag a win on August 30 against Jake Paul. Cejudo thinks that despite his previous knockouts, Woodley still has not shown effective striking combinations throughout his career. He picked 'The Problem Child' to either win by decision or knockout.
"I got Jake as a favorite too because Woodley's a one-hitter quitter type of guy. I don't think Tyron Woodley going with Floyd's going to help him, I think that's the worst thing you wanna do because you don't have that style. There's only one Mayweather with the shoulder roll," said Henry Cejudo.
"Tyron Woodley doesn't have combinations man, it's a one-punch thing. Jake Paul's going to be able to take those punches man. So I got Jake Paul, decision or maybe even stopping him," added the triple champion.
Is Henry Cejudo right about Tyron Woodley?
Stepping into this fight, Tyron Woodley is the smaller opponent with a shorter arm reach. This gives Jake Paul the ability to keep him outside the pocket by maintaining distance at all times. If Woodley cannot close this distance, Paul will be able to land jabs to the face and hooks to the body with ease, while preventing him from countering. Tyron Woodley will need to go beyond mere knockout strength for this bout.
The fight could come down to the former UFC champion's ability to defend, close the distance, and create angles for effective striking against Jake Paul. However, as Henry Cejudo suggested, fans have not yet seen Tyron Woodley fight in that manner before. He is best known for throwing vicious haymakers that immediately dropped his opponents and then he would proceed with wrestling maneuvers.
ADVERTISEMENT
Article continues below this ad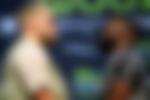 'The Chosen One' will have to double down on traditional boxing finesse in order to be a real problem for the 24-year-old YouTuber-turned-boxer. While there are obvious risks to Woodley bringing conventional MMA-style footwork and striking to a boxing ring, fans have not yet seen a side of Jake Paul that knows how to capitalize on that.
August 30th could be a real make-or-break deal for both fighters. Who will you be rooting for?
ADVERTISEMENT
Article continues below this ad