"He's a Piece of Trash" – Floyd Mayweather Sr. Belittles Deontay Wilder
Published 06/17/2020, 2:13 PM EDT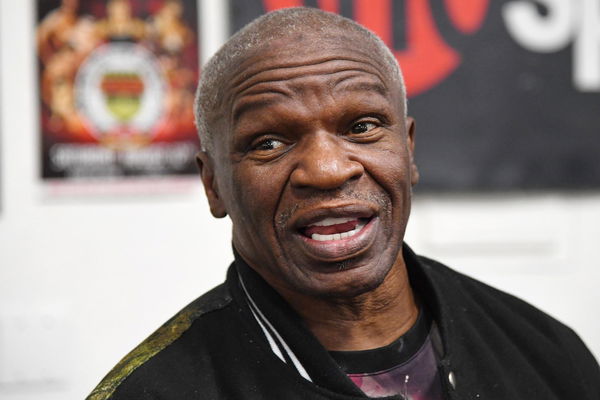 ---
---
Floyd Mayweather Sr. has no interest in fixing Deontay Wilder's game.
ADVERTISEMENT
Article continues below this ad
Deontay Wilder and Tyson Fury's rivalry began in 2018. The duo collided in December of the same year. The bout was spectacular. Fury displayed his elite-level boxing skills. And Wilder landed two knock-downs in the fight.
The result, however, was anticlimactic. The match ended in a draw and left a sour taste in the fans' mouths.
ADVERTISEMENT
Article continues below this ad
Both men clashed for the second time in February 2020. Unlike the first bout, the second one was completely different. Fury marched down Wilder. And dominated him while giving him no space to breathe. As a result, Wilder's corner was forced to throw in the towel in the seventh round.
Fury exploited some major holes in Wilder's game in the rematch. Although Wilder is looking forward to fixing them, many believe that there is little that he can do.
Can Floyd Mayweather Sr. fix the holes in Deonaty Wilder's game?
Mayweather Sr. is known as one of the best boxing coaches in the world. The American coach has trained great boxers like Ricky Hatton, Oscar De La Hoya, Floyd Mayweather Jr., etc. But can he correct the mistakes that Wilder made?
"Well, I bet on Wilder but he showed me a lot of s*** that he didn't know," he said on the Mayweather YouTube channel.
"A lot of people have been asking me to train him. But I don't know if he can be fixed. There's a lot of things he's got to do that I know that he doesn't know."
ADVERTISEMENT
Article continues below this ad
It's easy to think that Mayweather Sr. favors the "Gypsy King". However, he trashed Fury as well.
"Neither one of them really looked like nothing where somebody can come out and really tear up someone. Wilder looked [bad]. I don't know about those fights. Them guys, they just ain't got it."
Finally, he revealed that he liked Wilder before. But now the "Bronze Bomber" is nothing more than a "piece of trash" for him.
ADVERTISEMENT
Article continues below this ad
"I liked Wilder at first. But now I ain't got nothing to say about him except he's a piece of trash."