'He's Gonna F**** Kick Your Teeth Out' – Mike Tyson Alarms 'Sugar' Ray Leonard
Published 04/05/2021, 8:00 AM EDT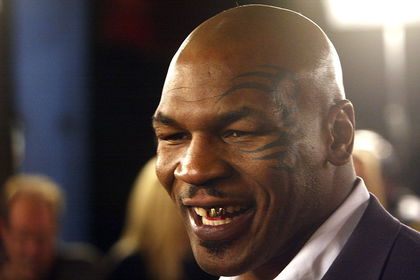 ---
---
Mike Tyson is famous for being 'The Baddest Man on the Planet'. The youngest heavyweight champion of the world, 'Iron Mike' was the scariest man in the sport for a long time. In addition, he had the personality to match his fearsome in-ring skills, and he has now given fans a hint at the good old days.
ADVERTISEMENT
Article continues below this ad
The former champion has his podcast called 'Hotboxin with Mike Tyson'. The podcast has hosted some of the biggest names in the sport and has also attracted immense criticism over the past few months. However, the 54-year-old has turned into an instigator yet again.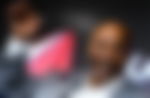 The 50-6 professional boxer welcomed legendary boxers 'Sugar' Ray Leonard and Tommy Hearns on an episode of his podcast. However, the heavyweight tried his best to spark a battle between Leonard and Hearns.
ADVERTISEMENT
Article continues below this ad
Leonard turned to Hearns and said, "Why do you talk trash and can't back it up?" 
Tyson was quick to respond with, "Tommy can back it up." When 'Sugar' claimed Hearns wouldn't do it against him, Tyson replied with, "Hit this motherf*****. Kick him in the motherf****** head." 
Tyson then warned Leonard, "Are you f****** crazy? He's going to f****** kick your teeth out."
READ: 3 Best and Worst Fights From Mike Tyson's Phenomenal Record

Why did Mike Tyson try to instigate a fight between the two?
As they fought during the same era and in the same weight class, Hearns and Leonard collided, and hence there is a history between the two.  
'Sugar' and Hearns first fought in 1981 for the unified welterweight title. The fight lived up to expectations, and both the boxers went at each other. Ultimately, Leonard won via a TKO in the 14th round. The bout was so close that the Ring Magazine named it the 'Fight of the Year.'
ADVERTISEMENT
Article continues below this ad
Given how close the first fight between the two was, they had to have a rematch. This rematch came eight years later in 1989. The second time around, the bout was even closer, and there was nothing to separate the two fighters after 12 rounds. As a result, the contest ended in a split decision draw.
Despite this history, the instigation from Mike Tyson was all light-hearted and a joke. Neither Hearns nor Leonard was being serious. It was just for the laughs.
ADVERTISEMENT
Article continues below this ad