"He's Just Envious"- Manny Pacquiao Hits Back at Floyd Mayweather
Published 05/25/2020, 12:20 PM EDT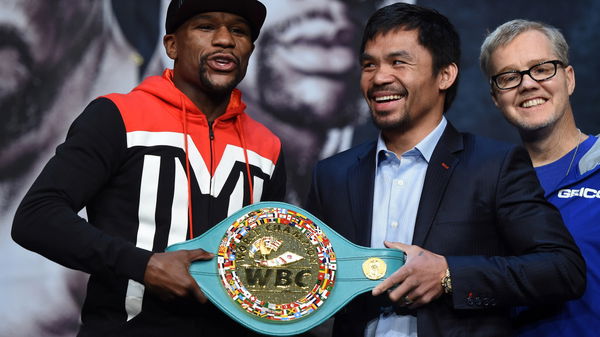 ---
---
Trash talk is something that comes naturally to those in the combat sports circuit. Which is why they get adept at taunting other fighters and responding to shots. Manny Pacquiao indulged in the same in a bid to respond to Floyd Mayweather's statements.
ADVERTISEMENT
Article continues below this ad
In a recent interview with The Manila Times, Pac Man responded to Mayweather's comments about his age in a rather stern manner.
"He is just envious because he's already retired. We're still active and have a crown," said Manny Pacquiao with respect to Mayweather's claims.
ADVERTISEMENT
Article continues below this ad
In addition, the 41-year-old boxer claims that he has no plans of taking up retirement anytime soon. And nor should he, considering the money that he is minting.
"[I just finished hitting the] punching bag. No retirement yet. Yes, I'm still training. God is good all the time," Pacquiao confirms.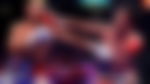 The Pac Man is riding high, having handed the youngster, Keith Thurman the first loss of his career. The fighter who was looked upon as the #1 fighter in his division, struggled to outbox the veteran and lost via split decision.
How Floyd Mayweather ticked Manny Pacquiao off
In a recent interview with Fighthype, Mayweather flamed the up and coming fighters for chasing fights against Manny Pacquiao. Dubbing him an 'old man' he suggested the younger generation to take on fighters their age. A task that he claims is too much for those fighters.
He believes that their time is over and now is the time for other fighters to come up and make a name for themselves. Therefore, passing the baton over to the budding boxers is the responsibility of boxers like Mayweather and Pacquiao.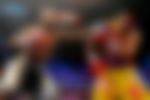 It is no surprise that boxers chase a fight against the legendary Pacquiao considering how one fight against him earns them a career-high fight purse. Which is incidentally what Pacquiao is chasing by picking a fight against Floyd Mayweather.
ADVERTISEMENT
Article continues below this ad
However, following all the trash talk, it will be a long time before we see Pacquiao take on Mayweather in the boxing ring. As a Senator, his priorities lie with helping his people through these tough times. A fight against Mayweather is the farthest thing from his mind.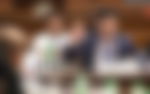 "I'm concerned first and foremost about our countrymen and about how to resolve this (coronavirus) pandemic," said Pacquiao.
ADVERTISEMENT
Article continues below this ad
Therefore, it is apparent that the 41-year-old has no concrete plans to make his way back to the ring. However, if he were to return anytime soon, Mikey Garcia is one of the top fighters slated to go toe to toe against Pacquiao.
When do you think Pacquiao will return to the ring?