"He's Rattled": Fans Slam Tyson Fury for 'Ugly' Remarks About Oleksandr Usyk
Published 03/12/2023, 12:12 AM EST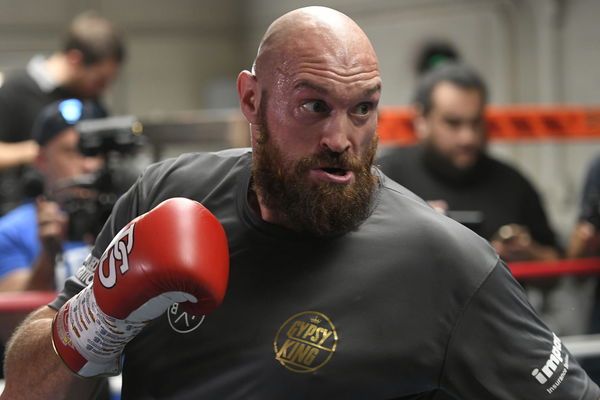 WBC Heavyweight champion, Tyson Fury, and the unified Heavyweight champion, Oleksandr Usyk, are currently two of the biggest names in the Heavyweight division. The duo is all set to face each other for an undisputed heavyweight championship showdown. A matchup that was further hyped up by the fact that Fury came out of retirement for the fight. Meanwhile, Fury has been in a constant online beef with Usyk since the talks for their fight began. And, it looks like he's come with the latest addition to these digs.
ADVERTISEMENT
Article continues below this ad
Fury had recently issued a stern warning to Usyk as he began the training camp for the fight. He further followed it up with a rather rude message later on. Fury said, "We're in the gym. We're getting ready to smash Oleksandr the b*tch Usyk. The happy teeth cat, little ugly bast*rd. You're getting it. In six weeks' time, you're history. And I'll still be the Gypsy King. Come on."
These statements come at a time when Fury had called for a 70/30 fight purse split. Usyk, on the other hand, surprisingly agreed to the deal while also putting forward a condition. With all the hype and drama around the fight. It is almost certain that fans are in for a treat on fight night.
Tyson Fury draws the ire of fans for 'firing himself up'
Boxing fans were not too happy with Fury's message for Usyk. What further added fuel to this fire was the fact that Fury took personal digs at Usyk. In fact, a lot of fans took to social media to share their thoughts about the same.
He's rattled. He didn't think Usyk would accept the offer. He got backed into a corner and could no longer escape, that's why greedy belly is so mad right now.

— Talsea (@SillahTafsir) March 11, 2023
Many fans felt that Fury was rattled by Usyk. Moreover, user @SillahTafsir mentioned that Fury did not think that Usyk would take up the offer.
Sounds like a primary school kid calling someone out on the playground

— Craig Gardner (@craigga147) March 11, 2023
Hope he loses, embarrassment

— Terry jones (@Terryj6996) March 11, 2023
Meanwhile, a few fans did not mince words while addressing his behavior. User @Terryj6996 hoped that Fury loses the fight.
He's in alot worse shape than i thought he would be starting camp

— Lloyd (@lloydmarshall6) March 11, 2023
ADVERTISEMENT
Article continues below this ad
On the other hand, user @lloydmarshall6 felt that Fury was in no way ready for the fight camp.
Firing himself up nicely.

He needs to be. Usyk's dental work & looks are the least of his worries.

Size notwithstanding he's facing the best technical boxer of his career.

Finally!

I'm looking forward to an actual professional boxing match for the first time in a long time.

— Terry Overall (@terryoverall) March 11, 2023
ADVERTISEMENT
Article continues below this ad
User @terryoverall added that Fury will be facing the best technical boxer of his career. What are your thoughts on Fury's statements? Let us know in the comments below.
Watch This Story: Five Fascinating Facts About Tyson Fury
Edited By: Shibu Immanuel