Horrifying: World Champion Boxer Hits Ex-Girlfriend Amidst Live Game
Published 03/16/2020, 3:08 PM EDT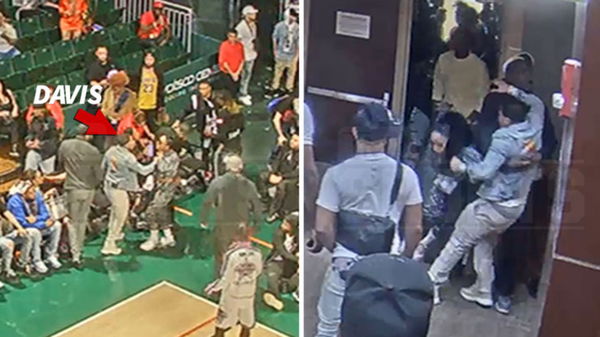 ---
---
New video footage has been released of the  moment Gervonta Davis pulled and dragged the woman off the floor of celeb game to a separate room by TMZ Sports.
ADVERTISEMENT
Article continues below this ad
In this new footage obtained by TMZ Sports of the altercation, the WBA lightweight champion can be seen pulling and pushing the woman into the Watsco Center locker room, a further partial view of Davis throwing his arm forward towards the victim.
The aforementioned woman is reportedly the mother of his child.
ADVERTISEMENT
Article continues below this ad
Furthermore, in the video one can see the woman charging back at him as Davis attempts to inflict more harm and is immediately pulled back by the crowd.
Davis, after getting separated, can be seen turning towards the man who appears to be filming the scene.
Earlier in February, Gervonta Davis, one of America's most prodigiously gifted young athletes, in a widely circulated video can be seen choking the woman in front of hundreds of people at a charity basketball game in Miami.
This harrowing short clip has been viewed more than 7.6 times which displays a chilling picture of Davis' insanity.
Davis, the second-youngest world champion in boxing, immediately took to social media following the incident:
"I never once hit her, yea I was aggressive and told her to come on," Davis claims.
"That's the mother of my child I would never hurt her other than that Happy New Years. January was trash."
Davis writes this on his post only to voluntarily surrender to the Coral Gables police, Florida three days later.
"As a result of an ongoing investigation after being notified through social media and the victim, on February 1, 2020, (Davis) was observed battering his former girlfriend (with) who have a child together."
Coral Gables police released this statement after Davis was jailed.
ADVERTISEMENT
Article continues below this ad
"(Davis) surrendered himself to Coral Gables police detectives assigned to the case."
Gervonta Davis rose from sheer poverty in west Baltimore, learned to box under Dennis 'Cutty' Wise and excelled at the sport's great stage, becoming the second-youngest champion in the sport at 22 years of age.
Davis soon finds himself in a sponsorship deal with Under Armour and hoardings displaying his image.
ADVERTISEMENT
Article continues below this ad
Davis, a WBA lightweight champion and two-time super featherweight champion and has an undefeated 23-0-0 record, 22 coming by way of KO.