"How Can Boxing Be in the Hands of Guys Like This": Fans Go Berserk Over Eddie Hearn's Mount Rushmore Picks
Published 03/18/2023, 10:39 AM EDT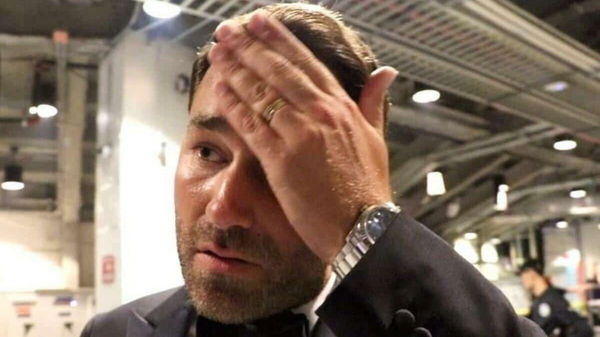 The British boxing promoter Eddie Hearn has made his Mount Rushmore picks. In a brief interview with DAZN, Matchroom Boxing's boss selected the name of four boxers who, according to him, are the best to be carved in boxing's Rushmore. Probably, you would be guessing the names of the greatest boxers like Muhammad Ali, and Sugar Ray Robinson, but it would shatter your hopes to learn the names Hearn announced.
Without caring much about boxing's vast history and former champions, he easily pointed out boxers from his promotion. Before knowing what Hearn said, let's take a look at what Mount Rushmore actually is and why it is so famous.
Mount Rushmore in South Dakota is a National Memorial also known as the Shrine of Democracy, which represents the first 150 years of America's history. Located in Black Hills National Forest, this Mountain pays homage to democracy and has gained a special status in the country and the world.
ADVERTISEMENT
Article continues below this ad
It is a colossal sculpture of four US presidents: George Washington, Thomas Jefferson, Theodore Roosevelt, and Abraham Lincoln. Moreover, the sculpture depicts the faces of these presidents carved into the granite mountain. Additionally, the entire gigantic structure symbolizes the nation's birth, growth, development, and preservation.
Keeping in mind the context of Rushmore, Eddie Hearn said, "My mount Rushmore of boxing would be Anthony Joshua, Canelo Alvarez, Katie Taylor, and me. What you laughing at!"
When fans came across this, they slipped into the comment section and chastized the boxing promoter for his choice of boxers on the list.
How did fans react to Eddie Hearn's Mount Rushmore?
Daemon Blackfyre dubbed Hearn's pick as the worst.
Thst's literally the worst Mount Rushmore possible xd. Ali , Robinson , Leonard and Tyson would be closer to the real thing.

— Daemon Blackfyre 🐉🗡 #TeamBlack (@mingorubies) March 18, 2023
Dick Richards Jr criticized Hearn for picking Joshua. The former unified heavyweight champion Anthony Joshua has faced back-to-back losses in his latest fights.
Anthony Joshua isn't even on the Mount Rushmore in his division.

— Dick Richards Jr (@DickRichardsJr1) March 17, 2023
The amount of people taking this seriously. His grin at the end has you all fish-hooked!

— Sam Stewart (@samstew4rt) March 17, 2023
Another fan named Christian Lambert made Hearn responsible for DAZN's loss.
This why DAZN losing money 😂😂😂

— Christian Lambert (@clhauling22) March 17, 2023
Woke Hunter wrote, "Holy shit, how can bonxing be in the hands of guys like this."
Holy shit, how can bonxing be in the hands of guys like this🤡🤣

— wokehunter (@wokewillhunting) March 17, 2023
I'll give the Stifler response to this. "Oh my god that's gay."

— Michael Scutero (@Mscutero) March 17, 2023
ADVERTISEMENT
Article continues below this ad
Ajxni called Hearn the biggest narcissist.
Why ask probably the biggest narcissist im boxing this question 😂😂

— Ajxni (UH-JON-NEE) (@Ajxniofficial) March 17, 2023
ADVERTISEMENT
Article continues below this ad
What do you think of Hearn's pick? Do you think Hearn was serious while answering this query? If you don't agree with Hearn then share your boxing's Mount Rushmore in the comment section below.
Watch This Story: Boxing News Round-Up (February 27, 2023): Mike Tyson Names the 'Current Greatest Fighter,' Nate Diaz Targets Logan Paul, Devin Haney Predicts Davis vs. Garcia and More