How Floyd Mayweather's Involvement in Anthony Joshua's Camp Can Be Devastating for Tyson Fury
Published 03/26/2021, 2:00 PM EDT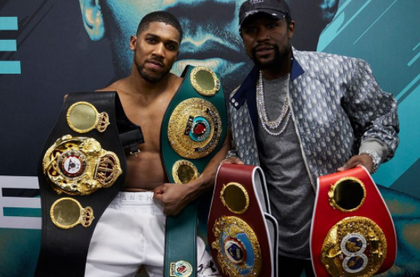 ---
---
The undisputed heavyweight title bout between Anthony Joshua and Tyson Fury has been the talk of the sport for months. With it being on course to be one of the biggest events in boxing history, everyone wants a piece of the action. So what if Floyd Mayweather joined the fold to coach 'AJ'?
ADVERTISEMENT
Article continues below this ad
Fury goes into the fight as the firm favorite. Experts believe Joshua does not possess the technical ability to match the awkward 6'9" giant. However, one man who moved and defended better than 'Gypsy King' was Floyd Mayweather. And the former champion has expressed his desire to train Joshua.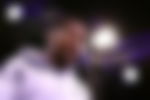 Even Tyson Fury's father, John, admitted that the only one who could beat Tyson Fury is a heavyweight version of 'Money' Mayweather. He spoke to iFL TV and said, "There's nobody out there unless you can get a 6'8, 18-and-a-half stone Floyd Mayweather. That is the only kind of [person] who is going to give him [Fury] problems."
ADVERTISEMENT
Article continues below this ad
This comment showed John's confidence in his son's ability. Therefore, Joshua will have to improve his movement, speed, and ring management drastically to have any chances of beating Fury. So can 'Money Mayweather turn 'AJ' into a heavyweight version of himself?
READ: Why is Tyson Fury Called 'The Gypsy King'?

What would Floyd Mayweather do for Anthony Joshua?
The former multi-weight champion has not officially joined up with the Joshua camp. However, if he did, what effect would it have on the Londoner's performance?
'AJ' started boxing in his late teens and thus is a fighter who is still improving. In every fight, fans have seen a different Anthony Joshua. Moreover, he himself has admitted he is still learning new things every day.
Mayweather and Joshua share a good relationship, and 'TBE' was even in attendance for his last fight. If Mayweather could teach 'AJ' his slick defense skills, improve his movement, and help him control his distance better, it could go a long way in the undisputed title bout.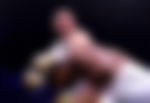 'The Gypsy King' is the taller fighter and has the reach advantage. For Joshua to get any success, he needs to cut the distance without getting hurt; Mayweather did this impeccably throughout his career.
ADVERTISEMENT
Article continues below this ad
Therefore, if the 50-0 pugilist can give Joshua his counter-punching secrets, it would give the Londoner the perfect game plan for Fury. Especially if 'The Gypsy King' plans to attack 'AJ'.
What effect do you think Floyd Mayweather could have on Anthony Joshua against Tyson Fury?
ADVERTISEMENT
Article continues below this ad
READ: Tyson Fury vs Anthony Joshua Training Comparison: Who Has the Better Technique?