How Much Are Mike Tyson's Pigeons Worth?
Published 09/16/2021, 10:50 AM EDT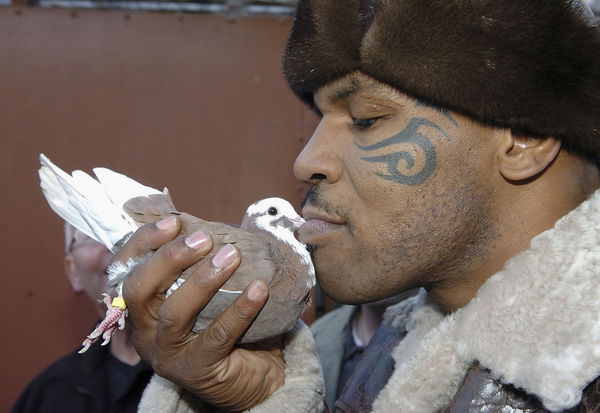 Mike Tyson has been in the spotlight ever since he made his first boxing appearance in the sport in 1985. He is an undeniable star of the game who had the audacity to change the sport with his magnetic persona. That said, he still ranks among the most renowned faces of boxing and he puts the retro as well as new boxing lovers in a frenzy with his activities.
Over the course of time, Tyson has shown his love for the sport of boxing. But alongside that, there's something that he equally loves and that's his pigeons. For a long time now, 'The Baddest Man on the Planet' has stayed vocal about his love for these birds and he also has several pigeons residing in his mansion.
ADVERTISEMENT
Article continues below this ad
How many pigeons does Mike Tyson have? 
Per CheatSheet, Tyson owns over 1,000 pigeons, and at one point he spent around a whopping $400,000 a month on their maintenance. However, there's no clear news of his pigeons' total worth. But, once in an interview, Tyson even asserted on buying a pigeon worth a staggering $2 million.
This itself shows the amount of love he has for these birds and his love for them has sustained over countless years.
Moving ahead, 'Iron' Mike once even knocked out a garbage man who threw his dead pigeon away.
Why Did Tyson keep pigeons? 
Tyson feels extremely connected to pigeons, and that's why he has so many of them as his pets. He even used to make homing pigeons race on his show, 'Taking on Tyson'.
Does Tyson still race pigeons?
Tyson made headlines earlier while he used to raise and race pigeons. But off late, he hasn't been doing the same.
ADVERTISEMENT
Article continues below this ad
Pigeons and other birds are a part of his life, and 'The Baddest Man on the Planet' certainly enjoys his time when he's around them.
With this, he indirectly sends a sublime message to his fans to take care of birds and wildlife around us.
Not only pigeons, but Tyson had a bunch of animals in the past. With time he showed how every pet he had was vital to him and his life.
ADVERTISEMENT
Article continues below this ad
What do you make of this story?
Watch this story – 5 Interesting Facts You Need to Know About Anthony Joshua