How Will 10-Ounce Gloves Affect Tyron Woodley Against Jake Paul?
Published 08/24/2021, 3:36 PM EDT
---
---
It's finally going down. Tyron Woodley is now all set to face Jake Paul in Cleveland, Ohio on August 29. This is a massive event because of what is at stake for both fighters. Jake Paul is coming off a stunning knockout win over retired wrestling specialist and MMA fighter Ben Askren. On the other hand, the former UFC champion will step into his boxing debut with four back-to-back losses in the octagon.
ADVERTISEMENT
Article continues below this ad
Tyron Woodley is infamous for his knockout abilities. Throughout his extensive MMA career, he showed precise and powerful striking. His mixed martial arts highlight reel is packed with brutal knockouts. Many experts and analysts believe that he will be able to bring his unique ability to drop opponents to the boxing ring as well. However, it is important to note that Woodley will be wearing 10-ounce gloves and not his usual 4-ounce gloves against Jake Paul.
ADVERTISEMENT
Article continues below this ad
Do MMA gloves hit harder than boxing gloves? Yes.
An experiment conducted in a National Geographic feature had UFC veteran Bas Rutten punch a heavy bag bare-knuckle, with an MMA glove and then a boxing glove.
The bare-knuckle punch generated 370 kilos of force, which would most likely result in a direct knockout and could also cause a fracture in the person's hand.
With the minimal padding in the MMA gloves, Bas Rutten generated 295 kilos of force, which is also sufficient to knock an opponent out cold.
However, punching with a boxing glove generated a surprising outcome. Rutten delivered 291 kilos of force using the fully padded boxing gloves.
This experiment proved that while MMA gloves definitely hit harder, the impact delivered through boxing gloves is not far off.
Will 10-ounce gloves throw Tyron Woodley off his game?
Tyron Woodley's straight jabs and wide-angled haymakers have knocked out many in the UFC octagon. Whether he will be able to drop Jake Paul with similar punches would depend on two specific factors – Paul's ability to eat shots and the force with which Tyron hits.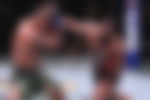 In a recent interview with Ariel Helwani on 'The MMA Hour' show, Tyron Woodley revealed that he plans to put an end to Jake Paul's rise in boxing by knocking him out. He mentioned that in a recent sparring session, he was hitting with first-round strength and power even in the eighth round. Woodley highlighted that at no point during the fight will he not try to knock out the 24-year-old Ohio native.
ADVERTISEMENT
Article continues below this ad
"I'm knocking him out, that's it. We don't need to know how many rounds, I don't even care how quick. My last time sparring, in the eighth round, I was throwing the craziest counter combinations with first-round power. So, it don't matter what round. It's cool for you guys if ya'll want me to say first round because I sound cool if it happens. Okay, first round, Mystic Woodley. 
"But, I'm patient. I'm not gonna rush it, I'm gonna take my time but I'm gonna be trying the entire fight to knock him out. It's not going to be one moment I'm not trying to knock him out," said Tyron Woodley.
ADVERTISEMENT
Article continues below this ad
Do you think Tyron Woodley can knockout Jake Paul on August 29?