"I Am Calling Him Out!": Amir Khan Challenges Floyd Mayweather to a Fight
Published 05/27/2022, 8:30 AM EDT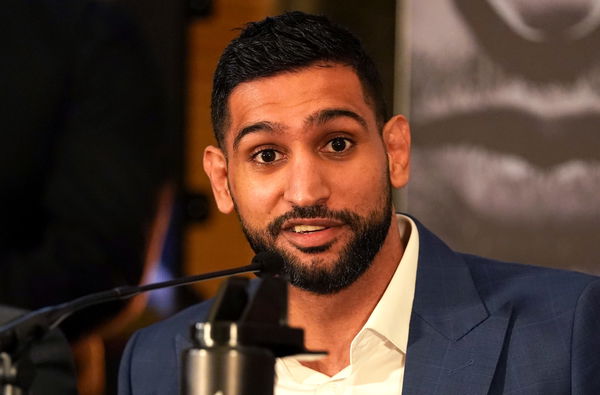 The fans spotted Amir Khan and Floyd Mayweather in Dubai when Mayweather prepared for his exhibition fight against Don Moore. But right after the fight, 'King Khan, who attended the event, called out 'Pretty Boy' for a fight. 
After the fight, Khan spent some time with the former MMA fighter, Tam Khan. Both of them discussed the show put up by Mayweather and Moore in their fight. 
 

View this post on Instagram

 
ADVERTISEMENT
Article continues below this ad
Then Amir Khan mended his views on the fight. He said, "We saw the event today. I think he needed a real challenge in it, bro (Tam Khan). What do you think? We should do it, 100% guys, let's make it happen. I am calling him out!"
Khan's direct challenge to Mayweather showed that he is ready to fight 'TBE' in an exhibition fight, which will bring a lot of attention from the fans.
Some incidences that suggest the probable fight between Amir Khan and Floyd Mayweather
Before the fight, Khan and Mayweather met each other during the public interview session. Both had a good conversation where both the athletes paid respect to each other. 
According to the reports of The Sun, during the conversation, Mayweather made a statement asking Khan for a fight. Mayweather said, "Look, we should get it on." To which Khan replied, "And I said 'Brother, tomorrow I'm going to announce my retirement."
Khan confessed to Mayweather that he will announce his retirement the next day, which 'King' Khan did on his Twitter handle. But Mayweather stuck to his opinion, and he insisted Khan not bid the farewell to the sport. Mayweather said, "No, I don't think you should." This showed Mayweather's interest to indulge Khan in a fight. 
Another instance, when Mayweather tweeted for his fans to choose his next opponent in the year 2014, comes into the picture.
ADVERTISEMENT
Article continues below this ad
Mayweather asked the suggestions of his fans whether he should face Khan or Marcos Maidana. However, Mayweather chose to fight Maidana, leaving Khan's fight in the dreams of the boxing fans. 
Well, the latest talks of the athletes make it a great probability for the fight between them which remained only in talks in the past. The fans will wait for further talks by the boxers where they will clear about their fight.
ADVERTISEMENT
Article continues below this ad
Watch this Story: Top 5 Best Selling PPV Fights Of Floyd Mayweather's Boxing Career
Do you think Mayweather will accept the challenge from Amir Khan? If yes, then what's your prediction about this fight? Let us know in the comments below.
Edited By: Vibhanshu Kumar