"I Broke Both My Knuckles on His Head" – Alen Babic Details Gruesome Injuries After Tom Little Fight
After yet another stunning victory, Alen Babic has shared some disturbing details of his fight. The 30-year-old Croatian beat Tom Little in the third round after dominating the opening two rounds. The two were fighting on the Conor Benn vs Sebastian Formella card. Here, the undefeated contender made a huge statement in the division.
Speaking to SkySports boxing after his fight, Babic gave his opinion on his performance. He said, "Well, I'm very happy with this performance. Tom was in very good shape, actually. He surprised me. He took a lot of punches, a lot of hard punches."
The 'Savage' added, "I think I broke both my knuckles on his head. So, yea, it was pretty hard punches. And yea, I'm very happy but listen, this is what I do. I can do ten times better than this."
Clearly the 30-year-old believes there is more to come from him. He said, "He said he's gonna go to war… Like I told you before, everybody says that. Everybody says that, nobody does it. So, I really want something. I want a challenge."
These statements will hearten boxing fans as pugilist wants to fight tougher opponents down the line.
READ: "I'm Proud of What He's Achieved"- Anthony Joshua Lauds Alen Babic
What's next for Alen Babic?
The 'Savage' has been one of the most active fighters in the post lockdown period. He has fought three times and could be fighting soon. Eddie Hearn suggested that he may fight on the re-scheduled Dillian Whyte vs Alexander Povetkin card. 'The Body Snatcher' manages Babic so it will be easy to make that happen.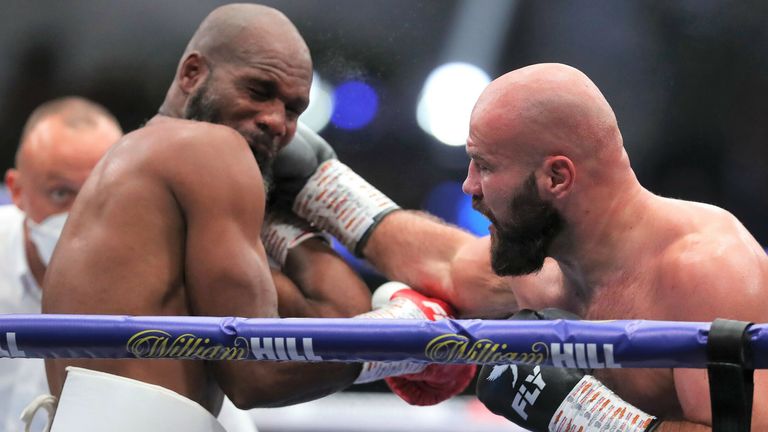 Babic himself will be ready to fight anyone. However, despite having a 100% KO rate, he is only six fights into his professional career. Maybe fans could see him fight another heavyweight on the rise in Filip Hrgovic.
That would make for a fantastic fight and could be the defining point for both fighters. Whether he fights Hrgovic or not, boxing enthusiasts can expect some fireworks from Alen Babic the next time we see him in the ring. What did you make of his latest win?