"I Could Have Done Better Than Canelo" – David Benavidez Berates Canelo Alvarez For Dmitry Bivol Loss
Published 05/22/2022, 9:00 AM EDT
The epic battle between Canelo Alvarez and Dmitry Bivol suddenly took the world by storm. The Russian pulled off one of the biggest upsets of the year by dethroning the Mexican King. Even though the fight took place on May 7, it continues to generate a lot of interest. Here's what David Benavidez, the two-time WBC super-middleweight champion, had to say about it.
In a recent interview with Fight Hub TV, Benavidez was quizzed about his sparring sessions with Dmitry Bivol and how he would have fared against him. He was asked, "You've sparred Bivol in the past right? I think you had told me that. When you look at that fight, does a part of you feel I could have done better than Canelo, I could have won that fight."
ADVERTISEMENT
Article continues below this ad
Benavidez stated, "Definitely, oh definitely all right. I've had a lot of success when I was sparring with Bivol. We had a good sparring session, a lot of good sparring session. So I know for a fact I could have done better than Canelo."
The super middleweight champion, El Bandera Roja, believes that he would have done a better job at fighting Dmitry Bivol than Alvarez. 
David Benavidez hints toward a fight with Dmitry Bivol
Benavidez, who has a perfect (26-0-0) record, is progressively climbing to prominence one battle at a time. The 25-year-old from Phoenix, Arizona, recently defeated David Lemieux in a thrilling match.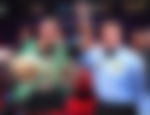 Benavidez, on the other hand, is seeking prominent boxers for a possible fight.
"So I guess you know what's more interesting to you than obviously, you said Canelo." Benavidez was asked in the same interview with Fight Hub TV. He replied, "But if there's a chance to go up to 175 and beat Bivol, like the guy that beat Canelo, like I would imagine that's lucrative also for you."
ADVERTISEMENT
Article continues below this ad
The American boxer replied in a rather pragmatic way, stating, "Yeah. But if I mean if you think about it, I mean i don't think Bivol would put that in jeopardy especially when he has a rematch already lined up. I would doubt if I got the opportunity to fight Bivol, I would go up. You know instantly go and fight Bivol. But I mean to be honest who is he going to be making more money with."
"You know he already took a pay cut to fight Canelo. I don't think he's willing to take another pay cut you know. So I mean he deserves it, but if I would get the chance I would definitely fight, I would definitely fight Bivol. I'd fight him tomorrow," Benavidez added.
ADVERTISEMENT
Article continues below this ad
WATCH THIS STORY: Everything You Need to Know About Canelo Alvarez's Golf Stints
With all of this going on, there may be opportunities for significant match-ups in the days ahead. Only time will tell how things turn out in the future.
Edited By: Vibhanshu Kumar