"I Definitely Feel Like It Was Destiny" – Devin Haney on Training With Floyd Mayweather
Published 05/24/2020, 12:32 PM EDT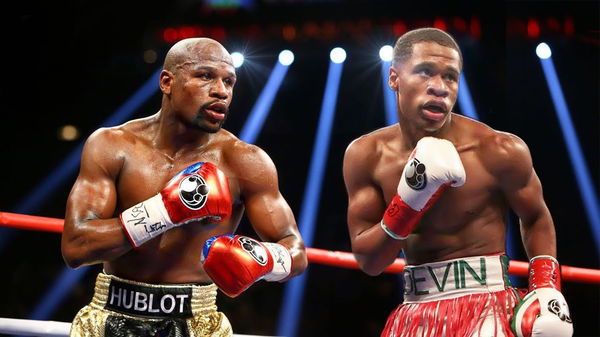 In a recent video, WBC lightweight champion Devin Haney was seen training with legendary boxer – Floyd Mayweather. In his last professional boxing match, Floyd Mayweather took on the debuting Irishman – Conor McGregor.
ADVERTISEMENT
Article continues below this ad
Mayweather disposed of the mixed martial arts sensation inside ten rounds in 2017 and earned one of the biggest paychecks of his career.
The 43-year-old now wants to shift his attention towards training boxers. In April, Mayweather revealed that he has been training his 14 years old nephew who had no prior boxing experience.
ADVERTISEMENT
Article continues below this ad
"This is my first day working with my 14yr old nephew @slugboi.chris who has absolutely NO boxing experience at all, and this is my second time doing mitt work,' Mayweather wrote on his Instagram."
Furthermore, he stated that he had incredible trainers in his career which included his father and late uncle Roger Mayweather. He wishes to follow in their footsteps and become the best trainer in the world.
Floyd Mayweather trains Devin Haney
In a recent interview with IFL TV, Haney revealed that he and Mayweather have been training through online modes for a while. However, he recently got the opportunity to train with "Money" in person.
"It's been going on for a couple of days now. The first day we worked out it was all over Instagram and stuff like that. I mean me and Floyd have talked on numerous occasions. As you saw there's numerous videos of me and him working in the gym showing me different tips. So we finally got in a real training session and it went well."
Haney also stated that the duo hasn't spoken of a deal yet. But he appreciated Floyd for his knowledge in the game.
ADVERTISEMENT
Article continues below this ad
"As of now we haven't spoken on anything, anything long-term but you know whenever Floyd can give me tips and work with me he always does so I have to thank him for that. Floyd knows so much of the game.
"He's accomplished so much he's been in the game for so long. He became world champion the year that I was born so there's so much that he can teach me and I learned so much."
ADVERTISEMENT
Article continues below this ad
Since Haney has worked with Floyd Mayweather Sr. and Roger Mayweather, he believes that it was his destiny to train with "The Best Ever."
"I definitely feel like it was destiny. I've worked with Jeff Mayweather, Floyd Sr, Roger, and now Floyd Jr so it was definitely destiny and I'm very thankful for this. It's still unbelievable to me."