"I Feel Like a B***h"- Mike Tyson Breaks Down In Tears In Emotional Interview
Published 03/03/2020, 2:16 AM EST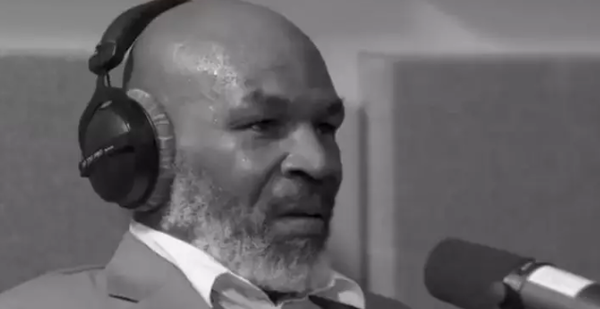 ---
---
The hardest man on the planet Mike Tyson bares his soul to Sugar Ray Leonard On the popular podcast called "Hotboxin' with Mike Tyson'.  The podcast discusses all things boxing and life. In the heartwarming video, Tyson talks about how Sugar Ray Leonard influenced his life. One of the most feared and dangerous individual comes to tears as he explains how important Ray is to him.
ADVERTISEMENT
Article continues below this ad
The rarest of sights, Mike Tyson goes beyond what people think of boxers. He proves to people that boxers are more than stone-cold machines of destruction. Tyson delves into the technique employed by Ray to fight. He talks about how efficiently Ray threw punches. The ability to punch so fast that you could only hear one punch in a combination of two punches. You would only feel that combination and by the time you figure out what was happening, you would be out cold. He calls it "The Ultimate Knockout Punch".
"Though when I see you, I love you, It's almost like I worship you n***a."- Mike Tyson to Sugar Ray Leonard.

https://twitter.com/usy1_/status/1234201855674155014?s=20
ADVERTISEMENT
Article continues below this ad
Mike Tyson Looks Back to His Past Self
Tyson proceeds to explain why he was such a feared individual in the ring. He claims it is because he was an annihilator and rightly so. Tyson further explains that he is working on the art of being humble. He claims that is the reason why he's crying because he's not that ruthless annihilator anymore. He also admits that he misses what he used to be.
"Sometimes I feel like a b***h because I don't want that person to come out. Because if he comes out, hell is gonna come out with him. It may seem like I'm a tough guy but I hate that guy, I'm scared of him."- Mike Tyson
Tyson admits to Ray being his source of inspiration. Ray inspired Tyson to be something more. Coming from a poor neighborhood, it is difficult to find direction, a sense of purpose. Tyson claims it is Ray who gave him that purpose and that he cannot be the only person whose life has been touched by Sugar Ray Leonard so closely.