"If No One Breaks My Record You Will"-Floyd Mayweather Pens an Important Message
Published 03/04/2020, 2:07 PM EST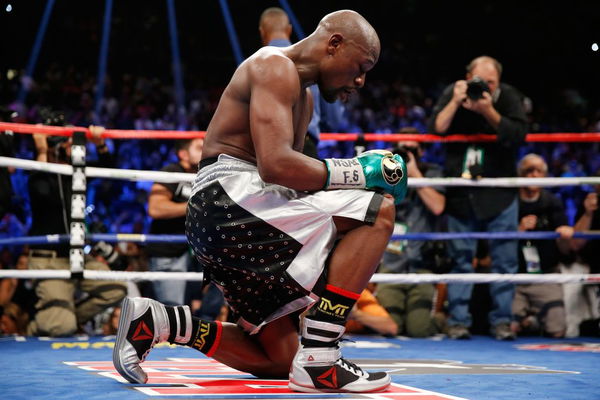 ---
---
Floyd Mayweather was full of praise for a talented 5-year-old boxer during his multi-city icon tour in the United Kingdom.
Addressing the crowd during a Q and A session with FightHype Floyd said:
"If no one breaks my record. You will!"
ADVERTISEMENT
Article continues below this ad
Floyd Mayweather's childhood reason for his success?
Floyd is currently 50-0 and hasn't been beaten since 1996. Just like this young boy Mayweather was considered as a ''pugilistic prodigy'' since his breakout in 1996. The future Hall of Famer retired as 5 division champion and a 4 division lineal champion retiring as one of the highest pay-per-view attractions of all time.
ADVERTISEMENT
Article continues below this ad
The child prodigy had a tough upbringing and had to endure a bizarre childhood. His father would spend time with him in the gym and was a strict disciplinarian depriving young Floyd of a normal childhood.
READ: Mike Tyson Gets Emotional While Discussing the Great, Muhammad Ali
Now that the tables have turned Floyd Mayweather places a lot of emphasis on education and money management for young fighters.
Addressing the crowd, Floyd said:
''
In my home education is first. My children know that. I don't want them to be like me I want them to be better than me'
'.
Now that Floyd has retired this seems to be a more cautious approach given that he has seen and experienced everything in the sport. Being a young prodigy comes with a lot of pressure and with boxing being as unpredictable as it is an emphasis on education shouldn't be taken for granted.
The next Floyd Mayweather?
ADVERTISEMENT
Article continues below this ad
The young boxing prodigy has competed in over 100 gym fights and is touted as the next '' Money Mayweather''. Floyd currently owns a promotions company and might be on the lookout for up and coming talent.
With the plethora of young fighters emerging from all over the world, it won't be any surprise if we see this young boy headlining a Mayweather Promotions bout in the next 15 years.
ADVERTISEMENT
Article continues below this ad
READ: Floyd Mayweather Offers His Hand to Deontay Wilder to Beat Tyson Fury