"I'll Be the Last Man Standing" – Anthony Joshua Confident of Finishing Pulev
Published 12/12/2020, 12:24 AM EST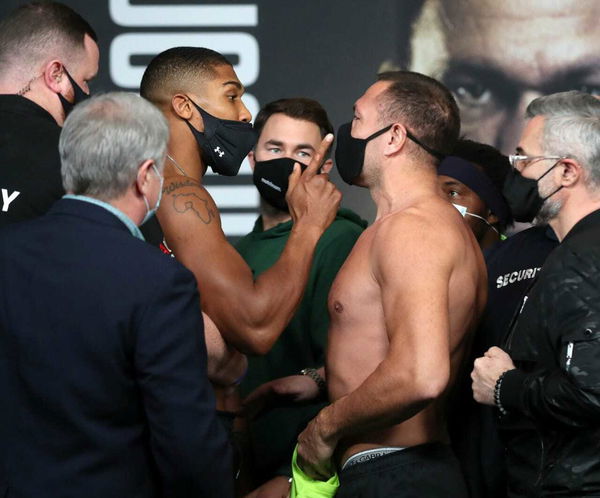 Anthony Joshua had a fiery face-off with Kubrat Pulev during their weigh-in. The WBA, IBF, and WBO heavyweight titles will be on the line when two men collide in a titanic clash on Saturday. If their face-off is anything to go about, then we are in for a treat.
Things got physical and intense when the two heavyweights faced off. Joshua was fired up like never seen before. During an interview with Sky Sports Boxing, AJ revealed what actually happened. He also opened up on how he plans to fight Pulev on Saturday.
"I don't know but that's just how we are in it. You come talking a lot of rubbish, I don't wanna swear on TV. Spoke all that rubbish, just back yourself really. That's what it is," said Joshua when asked about the words exchanged between them.
ADVERTISEMENT
Article continues below this ad
When asked what was his reaction to such trash-talking from Pulev, AJ added, "Many years I've been watching boxing and I've seen so many fighters talk a load of rubbish. Then they get smacked up in it. That's just him doing what fighters do. Unless you study boxing, that type of stuff would intimidate someone, but I mean that really doesn't intimidate me"
Anthony Joshua got physical with Kubrat Pulev
ADVERTISEMENT
Article continues below this ad
Joshua revealed he would have clipped Pulev right then and there. However, he decided to save it for the official bout. He stepped onto the scales slightly heavier than the last time and said that he felt good about his weight ahead of his title defense.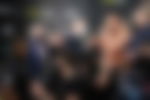 He touched upon an oft held question about face-offs firing him up more than the fights. 'AJ' said, "No, I know what he's like, I studied him. He thinks he is a warrior. But I said don't let the guys you fought gas you up. You're in against a real one now... When people come into the ring with me, they're confident. Then after a few rounds, their soul gets destroyed, and once I see that I can take them out." Joshua added.
ADVERTISEMENT
Article continues below this ad
He also gave a prediction for the fight and showed respect to Pulev's punching ability. "We're big boys. We punch heavy. So the first man to land. I think I'll be the last man standing," said the champion.
Fans are excited to see Anthony Joshua back. And in Bulgarian Pulev, he has a worthy challenger. How do you think the fight goes? Will AJ be victorious yet again?