"I'll Put a Dent in His Boxing Career" – Tyson Fury Trashes Conspiracy Theory With Video Evidence
Published 07/06/2020, 11:12 AM EDT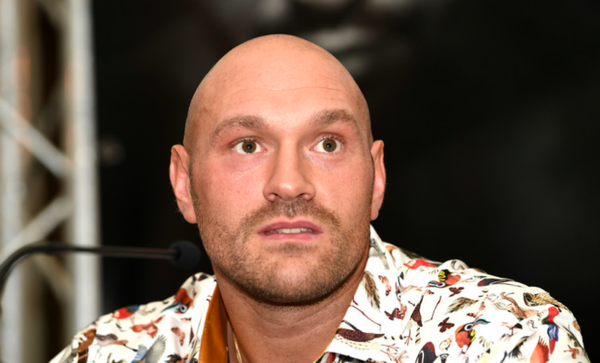 Tyson Fury lays Marsellos Wilder's—brother of Deontay Wilder—theory to rest. "The Gypsy King" shut down all doubters in his latest video.
ADVERTISEMENT
Article continues below this ad
Ever since Tyson Fury manhandled Deontay Wilder, several conspiracies have surfaced online. One of them claims that Fury tampered with his gloves before the bout.
Recently, Wilder's brother said that after doing an "autopsy," it was revealed that Deontay was hit with a blunt object. Additionally, he also stated that no gloves or fists could have done the damage.
ADVERTISEMENT
Article continues below this ad
Tyson Fury discards the conspiracy theory
Fury rubbished Marsellos' claims. The Brit uploaded a video which shows Deontay's trainer Jay Deas watching Fury get his hands wrapped.
"This is just a quick video to address all this foul play talk from Wilder and his team. I've just read an article before saying that I might've had some blunt objects in my gloves, yeah, two big 19 stone 7, 275lbs destroyers in each glove.
"So yeah, getting punched up the temple may do that to ya. Not unless Wilder's one trainer Jay Deas was in on the conspiracy as well, along with the Las Vegas State Commission guys who never left the room."
This isn't the first time that team Fury has tried to discard the theory. Earlier, Fury's cornerman had also shed light on the situation. Click this link to watch the video.
ADVERTISEMENT
Article continues below this ad
"Jay Deas was in the room when I had my hands wrapped, he examined them, he was in there when I had my gloves put on, examined them and everyone else was in the room.
"They don't leave you, we all know this. So everybody citing foul play, BULL**! And the next time, I'll put a dent in his boxing career, end it, because it'll be two knock-out losses in a row, bye-bye forever."
ADVERTISEMENT
Article continues below this ad
Besides the above theory, Wilder had also said that the weight of the suit compromised his legs during the match. Nevertheless, these two boxers will go at it again later this year. As of now, the trilogy is likely to take place on December 19 in Las Vegas.
What do you think of Tyson Fury's response?