"I'm Gonna Support My People First"- Floyd Mayweather Opens Up About Training Devin Haney
Published 05/30/2020, 7:00 AM EDT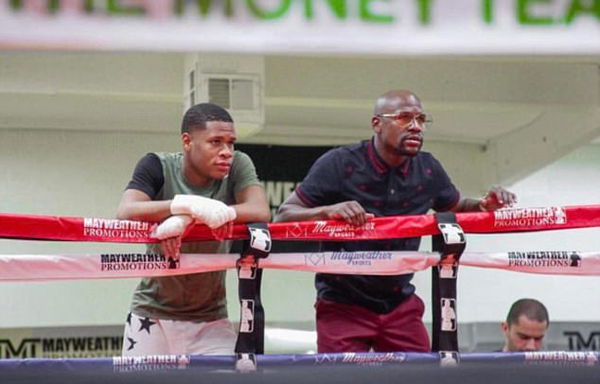 ---
---
The bond that a trainer shares with his fighters often extends beyond the confines of a gym. Any good trainer will have a deep understanding of his fighter's desire and needs and a fighter will recognize that of his trainer. Floyd Mayweather in a recent interview opened up about the same with Devin Haney.
ADVERTISEMENT
Article continues below this ad
In these troubling times, amid a global health pandemic, any form of good news is rather scarce. However, the news of the former undefeated legend taking The Dream under his wing comes as a breath of fresh air.
The 21-year-old undefeated lightweight is one of the biggest prospects in the division. And under the fine tutelage of the former #1 pound for pound boxer, he is only looking to soar higher.
ADVERTISEMENT
Article continues below this ad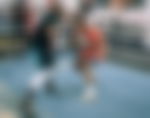 "It's obvious that I'm giving back this world. It's a black kid that asked for my advice and asked for my help. Haney don't need to fight one more fight at 135 [lbs], he's going to 140 [lbs].
"Gervonte Davis fights at what? He fights at 130 [lbs]. All I'm doing is helping a young black kid become successful," says Floyd Mayweather, in a bid to explain the reason behind his move.
Severa fans and connoisseurs of the sport speculate that Money may be looking to sign Haney to his promotion. His rival, Gervonta Davis already fights under the banner of Mayweather Promotions.
Therefore, bringing Haney on board would not be too big a challenge. However, their relationship extends to that of a fighter and a trainer, nothing more.
Floyd Mayweather to become a beacon for young African-American boxers
Mayweather understands the way the game is played very well. What drives a trainer to help a fighter strive for greatness is his will to succeed. However, a sense of community and belonging stokes the fire of passion to chase glory.
ADVERTISEMENT
Article continues below this ad
"At the end of the day, I want the best for all these fighters. There's no difference from my end. Everybody else support their own first.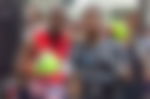 ADVERTISEMENT
Article continues below this ad
"There's no difference from how Mexicans support Mexicans, Dominicans support Dominicans, Chinese support Chinese, Puerto Ricans support Puerto Ricans. I'm a black man, I'm gonna support my people first," claims Mayweather while justifying his relationship with Devin Haney.
Whether Haney will flourish as Mayweather's apprentice or not is something that only time will tell. However, only a fool would bet against Money's disciple.