'I'm not too worried about it'-Jake Paul Gives His Take on the Scuffle between His Team and Tyron Woodley's Team
Published 08/27/2021, 1:17 PM EDT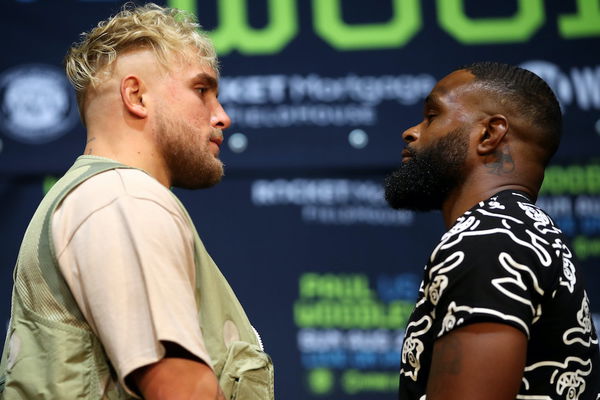 ---
---
Yesterday's pre-fight press conference for Jake Paul vs Tyron Woodley took off to a smooth start, only to end with a scuffle that could have gone terribly wrong. Jake Paul, however, sees the entire debacle as an unfortunate event and is choosing to keep his focus on the task at hand. 
ADVERTISEMENT
Article continues below this ad
Both fighters took the day to put on their open workouts for the media and fans down in Cleveland. After the press conference events, Tyron and Paul had a face-off, which went well enough. However, things began to escalate when a member of Paul's team got into a heated argument with Tyron Woodley's mother, fondly known as 'mamma Woodley'.  
In a recent interview with Ariel Helwani, Paul gave his take on the scuffle that went down, making the following statement.
ADVERTISEMENT
Article continues below this ad
"I didn't like it. You know it's just unprofessionalism on both sides. Everyone was in the wrong, family members talking to people on my team. Of course everything escalates, its fight week, lots of emotions and you know if it was anything else other than that I'd be like, okay this is cool, this is the fight business. But on women's equality day, with his mom and my team members and my mom's sitting next to her. My mom and her were completely cordial. I don't know how things got out of control, it's just a bad look, and I don't like it. But it is what it is and I'm moving on. I'm not too worried about it."  
Luckily, security present at the venue was able to handle the situation before it got out of hand. Nevertheless, Woodley was understandably furious, promising he'd get his revenge in the ring.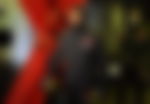 What's next for Jake Paul if he defeats Tyron Woodley
Jake Paul is an undefeated professional boxer with three fights on his record. Although his first two opponents had no history training in any combat sports, his most recent adversary, Ben Askren was a former MMA champion in multiple organizations.
Paul dealt with Ben Askren in a dominant manner, knocking out the veteran in the first round. Now Paul is about to face what many believe to be his toughest test against Tyron Woodley.
ADVERTISEMENT
Article continues below this ad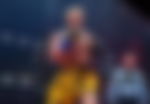 A former MMA champion with knockout power, Woodley might be smaller than Paul but is certainly the more experienced and technical striker. If Paul can manage a win over Woodley, there will be little doubt about his skills as a fighter.
Paul has already mentioned wanting to fight elite fighters such as Canelo Alvarez, Jorge Masvidal, and even Conor McGregor.
ADVERTISEMENT
Article continues below this ad
What do you think? What's next for Jake Paul if he wins against Tyron Woodley this weekend? Let us know in the comments.
Watch This Story: Jake Paul and Tyron Woodley Lifestyle + Net Worth Comparison