Is Yordenis Ugas Stepping Into the Manny Pacquiao Fight With an Injury?
Published 08/21/2021, 9:13 AM EDT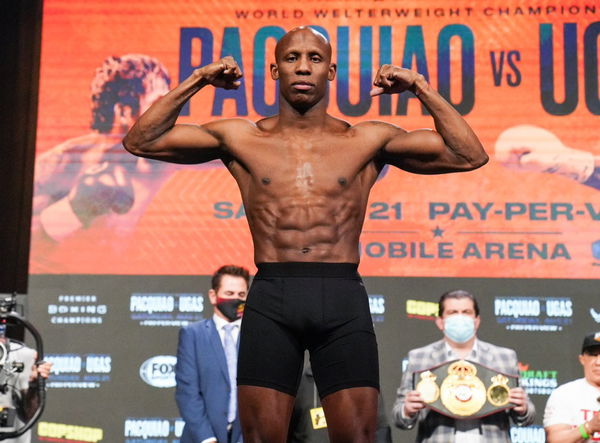 ---
---
In a few hours, Manny Pacquiao will finally return to the ring after two years of inactivity. Tonight, the boxing legend will face WBA (Super) welterweight champion, Yordenis Ugas. However, the pre-fight weigh-ins raised a lot of concerns around the Cuban boxer's condition. It seemed as if Ugas' left bicep was swollen and it was clear during the weigh-in that there was something wrong with his arm.
ADVERTISEMENT
Article continues below this ad
The weigh-in show has accentuated talks of a possible bicep injury that spread after PBC aired a promotional video featuring Yordenis Ugas. While the swelling on his bicep seemed better at the weigh-in compared to what fans saw in the earlier PBC video, an injury of that sort could be a major cause for concern.
ADVERTISEMENT
Article continues below this ad
However, speculations aside, Team Ugas has not shared any official update or confirmation on this 'injury'.
Can this bicep injury derail Yordenis Ugas from his original game plan?
It seems Yordenis Ugas might have suffered a 'distal bicep tear' injury. According to Dr. Steve A. Mora, a distal bicep tear is very common among mixed martial artists and boxers. It is usually caused by overextending and straightening the elbow against resistance. This causes an undesirable 'Popeye bicep' appearance. Considering Ugas' bulge in his left bicep, this could be a plausible assessment of the injury.
If Yordenis Ugas is actually stepping into this fight with an injury like this, it could be dangerous and detrimental to his progress. With a size and reach advantage over Manny Pacquiao, Ugas would need to have both hands up at all times to stop his opponent from closing the distance.
ADVERTISEMENT
Article continues below this ad
If he fails to maintain the gap and push Pacquiao out of the pocket, the Filipino boxing legend would be able to land effective body shots and even attempt knockouts.
The Cuban will have to make significant adjustments to compensate for the ineffectiveness of his left arm. He might resort to uppercuts if Pacquiao closes the gap and starts landing his typical sharp wide-angled hooks. Ugas could also adopt a 'stick and move' approach in which he constantly lands jabs and moves around the ring. This approach could force Pacquiao to resort to unconventional movements and that can create knockout openings for Ugas.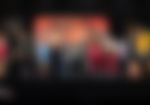 ADVERTISEMENT
Article continues below this ad
When Manny Pacquiao fought Floyd Mayweather with a shoulder injury in 2015, fans saw a weaker version of the Pacman. If this bicep injury proves to be a problem for Ugas tonight, he might not be able to perform as good as he did in earlier fights.