Jake Paul Claims Floyd Mayweather Was Calling Miami "Gangsters" to End Him
Published 09/09/2021, 1:33 PM EDT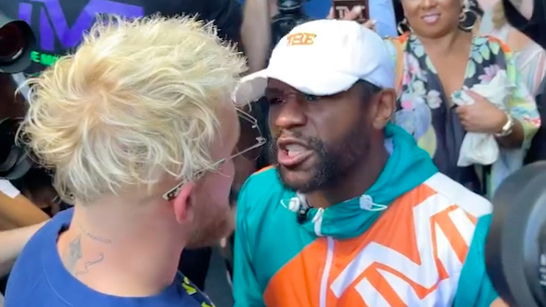 ---
---
Since his official professional boxing debut against Ali Eson Gib in 2020, Jake Paul has made a dent in the boxing community. While he has not fought top-tier pro-boxers yet, he has still done a phenomenal job even with the cherry-picked opponents.
ADVERTISEMENT
Article continues below this ad
His large-scale online viewership and following have helped him scale in the sport at this rate. Some of his shenanigans like the infamous Conor McGregor callout video and the Floyd Mayweather 'Gotcha Hat' stunt have definitely contributed to his stratospheric growth in the boxing world.
ADVERTISEMENT
Article continues below this ad
However, it seems it was not all smooth sailing for the 24-year-old. Jake Paul recently shared on the Full Send Podcast that his 'Gotcha Hat' stunt could have gotten him "killed". The Ohio native claimed that Floyd Mayweather had set Miami "gangsters" on his tail after he tried to take his hat off.
"We're like the young trolls who don't give a f**k and we're like genuinely making this old guy look really stupid and we legitimately hurt his feelings. Like that's what happened, that's why he was so angry.
We hurt his feelings, his hair was all f***ed up. Yeah like, just making him feel stupid, in general. No one's really gone there and hurt his feelings. He was trying to get me killed behind the scenes for sure.
"He was calling like the gangsters because we're in Miami at the time and he was calling the street people. My security is tapped into the "street people. They were like "yo, you guys have to be f***ing careful, he's trying to do something. So whatever the f**k that meant or means," said Jake Paul.
Jake Paul has his next opponent lined up
On August 29, Jake Paul secured a split decision win over Tyron Woodley in an eight-round in-ring battle. A week later, fans are already curious about what's next for 'The Problem Child'. The Ohio native has finally spoken out and believes he knows who he is set to fight next.
On the new Full Send Podcast episode, Jake Paul smirked as he was asked about his next opponent. With wins over two former UFC fighters has now elevated his status in the boxing community.
Now that he has a variety of fighters to choose from, he also has the option to cherry-pick his opponents to an extent.
But it seems Paul wants to solidify his mark in the boxing world. He revealed that Tommy Fury is at the top of his 'hit list' for now as he is an undefeated and skilled pro-boxer. Paul also highlighted that he is well known amongst the fans of the 'Love Island' show and also has a decent following on social media platforms.
ADVERTISEMENT
Article continues below this ad
"Tommy Fury is Probably at the top of that list. He's skilled, he's undefeated.
"He's a real boxer and he has like 4 million followers on Instagram, which is good, like good engagement. He has the fans from like his relationship that he like fell in love on a show or some s**t like that," said Jake Paul.
What do you think about this matchup for Jake Paul?
ADVERTISEMENT
Article continues below this ad