Jake Paul Reveals Next Fight: "He's a Real Boxer"
Published 09/09/2021, 9:27 AM EDT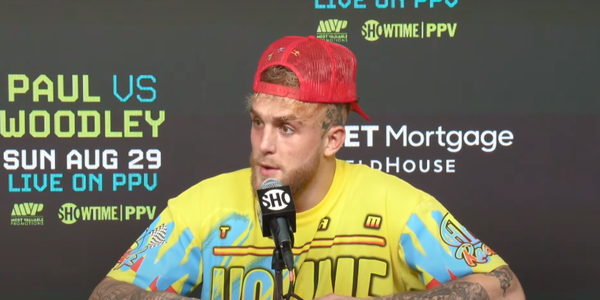 ---
---
On August 29, Jake Paul secured a split decision win over Tyron Woodley in an eight-round in-ring battle. A week later, fans are already curious about what's next for 'The Problem Child'. The Ohio native has finally spoken out and believes he knows who he is set to fight next.
ADVERTISEMENT
Article continues below this ad
On the new Full Send Podcast episode, Jake Paul smirked as he was asked about his next opponent. With wins over two former UFC fighters has now elevated his status in the boxing community.
Now that he has a variety of fighters to choose from, he also has the option to cherry-pick his opponents to an extent.
ADVERTISEMENT
Article continues below this ad
But it seems Paul wants to solidify his mark in the boxing world. He revealed that Tommy Fury is at the top of his 'hit list' for now as he is an undefeated and skilled pro-boxer. Paul also highlighted that he is well known amongst the fans of the 'Love Island' show and also has a decent following on social media platforms.
"Tommy Fury is Probably at the top of that list. He's skilled, he's undefeated.
"He's a real boxer and he has like 4 million followers on Instagram, which is good, like good engagement. He has the fans from like his relationship that he like fell in love on a show or some s**t like that," said Jake Paul.
Why Tommy Fury vs Jake Paul makes sense
Leading up to the Paul-Woodley fight, Showtime added Tommy Fury to the main event's undercard. This was an interesting move on the chessboard as Paul and Fury have been feuding online for months.
The decision to bring Fury on board seemed like a precursor to Paul's next fight against an undefeated pro-boxer. With this, boxing purists and Jake Paul critics tuned in to the event as well just to assess if Tommy Fury has what it takes to dominate 'The Problem Child'.
Many have also criticized Fury for facing opponents with more losses than wins. Fury has even acknowledged that and believes that has helped him grow as a professional boxer. Moreover, fighting heavily uneven opponents is not an uncommon practice for most pro boxing debutants. Many championship fighters have done the same in the past, but Fury's record came under the spotlight because of his rivalry with Jake Paul.
ADVERTISEMENT
Article continues below this ad
Tommy Fury has stated that he is committed to the sport and that he is willing to put in the work to improve further. The criticism against his performance on August 29 primarily stemmed from his inability to knockout Anthony Taylor. The fans expected pure fireworks from the bulky 22-year-old; however, he failed to live up to the crowds' expectations.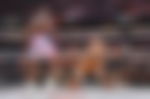 Despite all of that, he still fought well and showed decent skill inside the ring. His performance in his US debut proved that there is still immense room for improvement.
ADVERTISEMENT
Article continues below this ad
However, he could still be a tough challenge for Jake Paul. Unlike Woodley, at least Tommy Fury did not wait on that one shot. He understands the importance of the 'stick and move' in-ring approach. Jake Paul's go-to 1-1-2 combination might not be effective against Fury, who has a clear height and reach advantage.
Regardless of what he did in his US debut, he could definitely be a problem for the 'The Problem Child'.