Jake Paul vs Tyron Woodley Fight Fixing Rumors: How Did It All Start?
Published 10/28/2021, 10:12 AM EDT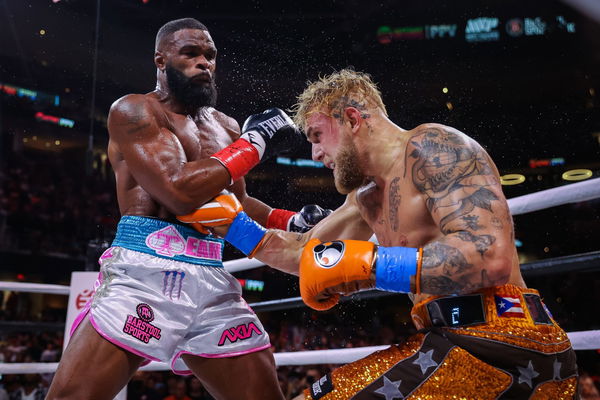 ---
---
Even though Tyron Woodley is not a boxer, he is still a former UFC welterweight champion and is notorious for his fierce knockouts in the octagon. Considering that Jake Paul had only fought two YouTubers, one NBA athlete, and then a retired wrestler, critics looked up to 'The Chosen One' as the one to finally beat Paul.
ADVERTISEMENT
Article continues below this ad
To everyone's surprise, the Paul vs Woodley fight lasted all 8 rounds, and both fighters did more than what fans expected them to do. Unlike Ben Askren, Paul simply could not drop Woodley; on the other hand, Woodley almost dropped his opponent but the ropes saved him from the knockdown. By the end of 8 rounds, the former Disney star bagged a split decision win over Woodley.
ADVERTISEMENT
Article continues below this ad
Even though the Ohio native proved everyone wrong that night, the internet warriors kicked off a rumor campaign after the fight. As soon as the 24-year-old defeated his opponent, the internet blew up with talks of the fight being 'fixed'.
These rumors initially stemmed from Woodley's lack of in-ring activity that night. It all accentuated with fans being left confused during a specific moment in the fight.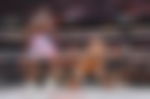 In round 4, Tyron Woodley pulled off an effective combination (left jab-left jab-right cross) and landed a sharp overhand right that nearly dropped Jake Paul. However, the high ropes around the ring saved him from lying flat on the canvas.
Even though Woodley had a very clear opening in round 4 as he had Paul laid out by the ropes, he simply did not inch forward or attempt to capitalize on his position. Moreover, his general lack of activity in the ring also seemed suspicious to many. This raised quite a few eyebrows back then; even now, many have reason to believe that the fight was actually 'fixed'.
Did Jake Paul have a "no knockout" clause in his contract?
Recently, Conor McGregor's training partner Dillon Danis made an extremely bold claim about the Paul vs Woodley main event. The 28-year-old revealed that there was at least one element of the fight that was 'fixed'.
Read More: Was Jake Paul Knocked Down Against Tyron Woodley?
The Bellator fighter claims that Tyron Woodley had a clause in his contract that barred him from physically knocking out Jake Paul.
While he has no real or concrete evidence to back any of his claims, Danis truly believes that is the only reason why Woodley held back from knocking him out in round 4.
"Tyron Woodley, from what I heard, had it in the contract that he was not allowed to knock out Jake Paul... I swear, when he was against the ropes, I swear – yeah, that's why when he [Jake Paul] was against the ropes, he [Tyron Woodley] didn't hit him. I'm telling you right now. It was in his contract where it said you're not allowed to knock him out," said Dillon Danis.
Before taking his word for it, it is also important to understand Danis' relationship with Jake Paul – they despise each other. In between and before the Woodley fight, there were also talks of a possible matchup between Danis and Paul.
However, with Danis' recent injuries and other unknown reasons, the negotiations never really came to fruition. Perhaps, this could also be a way for the Bellator star to re-enter Paul's radar and potentially re-initiate talks of a boxing bout.
How did fans react to all of the 'no-knockout' talks?
Following Dillon Danis' interview, the Paul vs Woodley 'fixed' rumors have once again gained some traction. Ever since the two clashed on August 29, fans have not eased down on these rumors and talks of the fight being rigged or Woodley even having a 'no-knockout clause' in his contract.
Here are some reactions to the recent fight-fixing rumors surrounding the Jake Paul vs Tyron Woodley event  –
News outlet: it's recently been revealed that Jake Paul vs Tyron Woodley was fixed

Me:🧐

News outlet: This information came out from an interview with Dillon Danis-

Me: oh, ok😅

— Easton 🤟 (@eastonbiggins) October 28, 2021
Well well well. The Jake Paul vs Woolley fight contracts now prove the fight was fixed. Told you Woodley wasn't aggressive where he normally wasn't and that fight didn't make sense. End this joke

— Fire Aaron Boone (@mikedwyer13) October 28, 2021
Get these frauds out of the sport! Trying to make boxing WWE!

Jake Paul vs Tyron Woodley: Former UFC star was 'contractually not allowed' to KO Paul | GiveMeSport https://t.co/RTD2NOW9zy

— Hidden Colors 5 (@andycuzie) October 26, 2021
Wait a fuckin minute. In the Jake Paul vs tyron woodley fight. Tyron was not allowed to knock him out per the contract. WHAT A FUCKING JOKE!

— NFT Shawty (@Coin_Controlla) October 20, 2021
It's Dillon Danis we're talking about here. 🤦🏻‍♂️ You think he should really be taken seriously?

— Intrepid (@RealIntrepid02) October 28, 2021
ADVERTISEMENT
Article continues below this ad
So you're gonna believe Dillon Danis even though he has no proof?

— Jay (@JalenCordell) October 28, 2021
ADVERTISEMENT
Article continues below this ad
Considering that there is no real basis for such rumors, do you still think this fight was fixed?
Enjoyed reading this article? Download our exclusive app to get 24x7 coverage, latest memes and social media banter. Click here to download.