Logan Paul Confirms Boxing Comeback; Keeps Opponent's Name a Secret
Published 03/15/2023, 7:30 AM EDT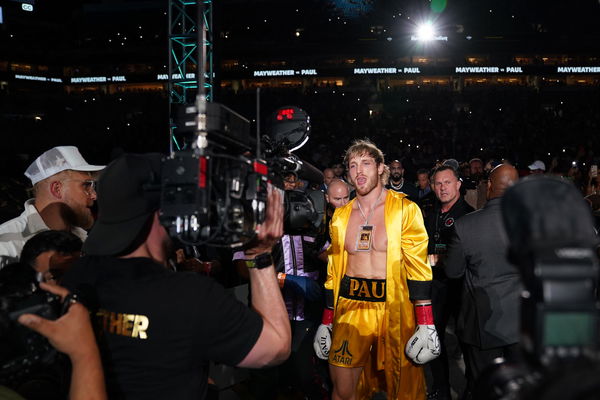 Logan Paul, the popular YouTuber turned boxer, has made a name for himself in the boxing world with his high-profile matches against KSI and Floyd Mayweather Jr. Recently, in an episode of Paul's podcast ImPaulsive, with guest Dave Portnoy, 'The Maverick' confirmed a new opponent for a boxing match this year, sparking a lot of excitement and curiosity among the boxing community.
However, he has kept the identity of his opponent a closely guarded secret, leaving fans and the boxing community speculating about who he could be facing off against.
Logan Paul's fans are in for a treat this year
ADVERTISEMENT
Article continues below this ad
In the clip from his podcast ImPaulsive, Logan is seen with Dave Portnoy, Mike Majlak, and George Janko. The four of them were talking about Jake Paul vs Tommy Fury fight, and the time when Logan Paul started talking trash on the mic in the middle of the fight. This led to a conversation about Logan Paul's next fight in boxing, That was when he revealed that he would be fighting this year, and said, "I've got a new opponent. Not said yet. I'll tell you and we'll bleep it."
After 'The Maverick' presumably revealed the opponent to his guests, Portnoy replied, "No s***". However, the reveal was bleeped out for the viewers. "Cool, right? I don't know what's going on either," Paul added, leaving fans in suspense about the details of his upcoming fight.
Potential opponents for Logan Paul's next boxing match
While the identity of Paul's next opponent remains unknown, rumors and predictions are circulating within the boxing community. Speculations include the likes of British boxer and Tyson Fury's half-brother, Tommy Fury, as well as MMA veteran Nate Diaz, who has expressed an interest in transitioning to boxing. Reports indicate Logan Paul's next opponent is Darren Till, confirmed by Dillon Danis and tweeted by Happy Punch.
ADVERTISEMENT
Article continues below this ad
Despite the speculation, fans will have to wait for an official announcement regarding Logan Paul's opponent. Logan Paul's boxing comeback has generated huge excitement for his next fight in the professional boxing world.
ADVERTISEMENT
Article continues below this ad
Meanwhile, it is safe to say that the excitement generated by his confirmation of a comeback guarantees that his next fight will be a major event in the world of professional boxing.
Watch This Story: Logan Paul in Trouble With The FBI?
Edited By: Shibu Immanuel