Logan Paul Exposes Floyd Mayweather's Kryptonite: 'I Am Going to Be a F** Di* Head'
Published 06/01/2021, 8:30 AM EDT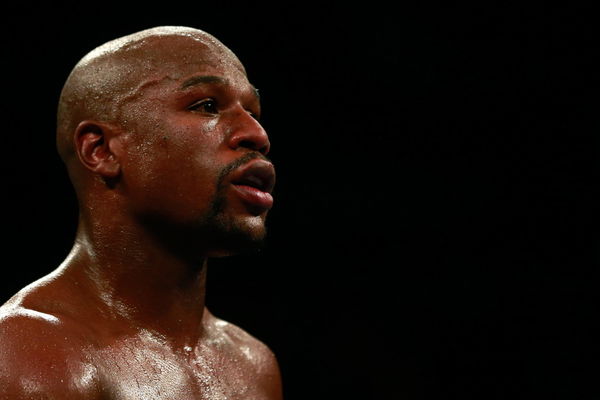 ---
---
Logan Paul looks confident ahead of the biggest fight of his boxing career against Floyd Mayweather on June 6. However, he claims to have found the unbeaten boxer's weakness and appears to exploit it throughout the build-up of the clash.
ADVERTISEMENT
Article continues below this ad
Paul has already started taking verbal shots at Mayweather and has vowed to be the first man to vanquish him inside a squared circle. Although it might make little sense to the fans, Paul has revealed a weakness that can be costly for Mayweather.
Speaking with True Geordie, 'The Maverick' said, "You know what I realized just in the past week? Man's got a temper problem. Like a serious temper problem."
ADVERTISEMENT
Article continues below this ad
He added, "Like I didn't know you would think someone of his caliber could like handle their emotions and stay collected. But he [Floyd Mayweather] has got a serious f*** temper problem. It's almost like his kryptonite, to be honest with you. If you can just get under his skin, like which I am going. I am going to be a f*** di** head."
Both Paul brothers have mocked Floyd Mayweather, turning the situation downright ugly. Starting from the first official press conference to the recent interview, Mayweather and Paul have unleashed a bad-blood, citing an interesting in-ring battle.
Watch this Story | Top Five Worst Eye Injuries In the History of Boxing
Although Logan Paul has claimed that this weakness will make him the winner, it may not be so. Mayweather, 44, has all the reasons to win the bout, and his stellar record is testament to the fact. So, only the in-ring fight can settle the dust for once and all.
Floyd Mayweather vs Logan Paul–More Details
Five-division world champion Floyd Mayweather retired from pro boxing four years ago after defeating Conor McGregor in 2017. But he still dons a fighting physique. Besides, Mayweather has trained all his life and is arguably the best boxer in this generation. So, he might have a lot in his arsenal that Paul isn't aware of.
ADVERTISEMENT
Article continues below this ad
Coming across several legendary boxers, Mayweather holds a perfect record of 50-0. That said, Logan Paul's mere tactics don't seem to trouble him. The undefeated superstar pugilist has vowed To KO 'The Maverick'. Hence, both the fighters appear to have chalked their plans and will try to work them out in the fight night.
The fight will be held in Hard Rock Stadium and will be streamed live on Showtime and Sky Sports.
Do you think Logan Paul stands a chance against Floyd Mayweather?
ADVERTISEMENT
Article continues below this ad