Logan Paul Makes Bombshell Decision: Family Rift Erupts as He Sides with Former Rival
Published 03/17/2023, 9:51 AM EDT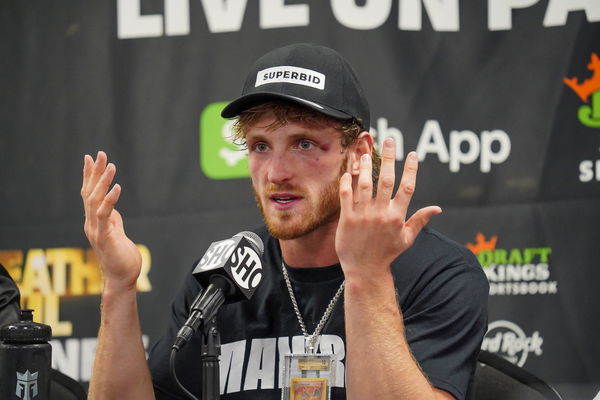 YouTube sensation Logan Paul has had a rocky start to 2023. At the start of this year, his CyptoZoo project came under a lot of fire after an "expose" was made on it. Moreover, Paul even had to apologize and promise to pay his investors back. Despite this, he has somewhat managed to stay relevant and not become another victim of the cancel culture. In addition, his energy drink brand 'Prime Hydration' has taken over the beverages market growing at a rapid pace.
The company was founded by 'The Maverick' and his former rival KSI. The two seemed to have turned a new stone in their relationship becoming business partners. However, KSI does not have the best relationship with Logan's brother Jake Paul. With both KSI and Jake currently leading the YouTube boxing scene, they have not shied away from beefing online. This has only caused Logan to get caught up in both sides and now it looks like he might have to choose once again as his father Greg Paul took shots at 'The NightMare'.
Logan Paul's father slams KSI
ADVERTISEMENT
Article continues below this ad
In a recent video, Greg Paul can be seen reviewing the latest flavor of Prime which is KSI's special edition, Orange and Mango. Despite claiming that the drink was great, he also took shots at KSI calling him a "b**ch". "Alright folks I just got the Prime KSI special, Orange Mago. Gonna try it for the first time. Oh man, that's good, that's really good. You know KSI might be a b**ch but this drink is the fu**ing bomb," said Greg.
It looks like Greg Paul has chosen to take the side of his kids as he praised Prime while also dissing the British YouTuber. This might be a good idea given Jake might just be facing 'The Nightmare' in the upcoming months following his loss to Tommy Fury. However, Logan was not happy that his father would take shots at KSI as he responded to the video.
Logan Paul responds to his father's comments on KSI
'The Maverick' sided with his business partner as he called out his father for the comments he made. He couldn't understand why his father would go on and slam KSI despite not knowing him. Logan just responded with a two-word reply citing his frustrations with his father.
ADVERTISEMENT
Article continues below this ad
"WTF Greg," he wrote. Prime is one of the fastest-growing energy drink brands in the world with him and KSI leading the way. Therefore it was not surprising for the Ohio-based YouTuber to call his father out as he looks to take over the market of energy drink with his business partner
ADVERTISEMENT
Article continues below this ad
What did you think about Paul calling out his father for taking shots at KSI? Let us know in the comments.
Watch This Story: Everything You Need to Know About Logan Paul's Latest Business Venture With KSI