Logan Paul Threatens To Kick Out Podcast Co-Host Over Hostility
Published 05/22/2022, 6:45 AM EDT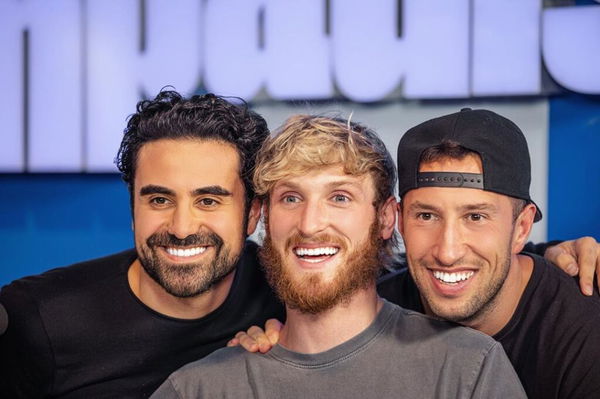 Logan Paul is known to have a good camaraderie with his podcast co-hosts. The episodes of 'IMPAULSIVE Clips' signify that the three hosts are not only business partners but also friends. However, even buddies may turn hostile due to a trivial issue.
The 'IMPAULSIVE Clips' channel on YouTube recently posted a video, which shows the conversation to remove George Janko from the show. Janko started, "I say one time Im'ma slap the s**t out of you and everybody crumbles."
ADVERTISEMENT
Article continues below this ad
Mike Majlak interrupted, saying, "Well it's just, you know…"
Janko – You threw a steel chair at Logan.
Majlak – We have a different relationship.
Furthermore, Janko exclaimed, "A steel fu**ing chair. This guy stabbed you in the back on fu**ing 'Momma's Basement' and I can't smack somebody? What kind of fu**ing boxer are you bro?"
Paul attempted to clarify things by explaining, "I'll tell you why because, I'll tell you I'll say it again. You told me, you said, "I'm gonna smack the sh*t outta Mike." I said if you incite violence towards anyone on this team, you're out."
 

View this post on Instagram

 
Paul further added, "It was premeditated."
Janko – I like to give my opponent a fair opportunity.
Majlak – Nah, f**k that. Will Smith all day. Will Smith all day.
It was a lighthearted video with no significant implications. The three hosts had a humorous discussion about the situation, and the clip has gone viral, earning viewers' attention.
When Logan Paul said "We had to kick George off"
ADVERTISEMENT
Article continues below this ad
The 'IMPAULSIVE Clips' podcast is a big hit on YouTube. All credit goes to the hosts and the team behind it. However, in a separate incident, 'The Maverick' announced on the podcast that George Janko will no longer be a part of the show.
Again, it was a prank, and Jake Paul, who was invited to the podcast, was undoubtedly aware of it. Janko was sick with Omicron and couldn't sit for the podcast because of it.
ADVERTISEMENT
Article continues below this ad
The YouTube channel 'IMPAULSIVE' is another channel of Logan Paul. It has roughly 3.85 million subscribers and has received a lot of positive feedback.
What are your thoughts on Paul's decision to fire Janko? Write it down in the comments section below.
Edited By: Vibhanshu Kumar