Manny Pacquiao Challenges Floyd Mayweather in a 5v5 Basketball Match
Published 07/30/2021, 12:30 PM EDT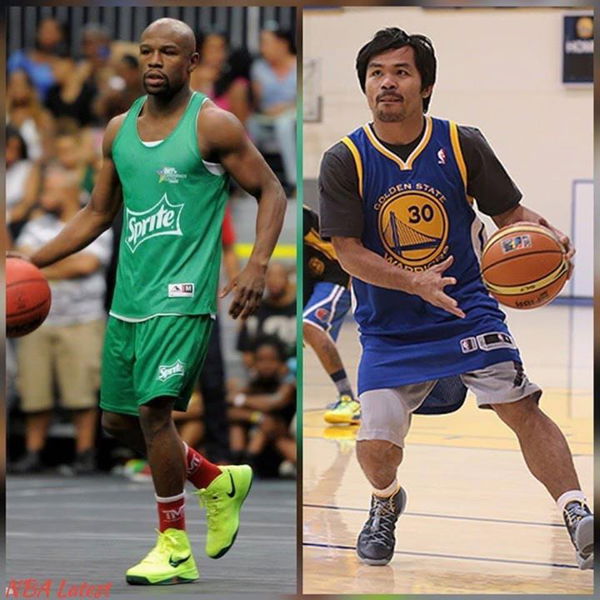 ---
---
Ahead of his fight against IBF and WBC welterweight world champion Errol Spence Jr on August 21, Manny Pacquiao recently sat down with the Schmo. The former champ spoke about his upcoming fight and why he is fighting the best athlete in the division for his return to the ring after a 2-year hiatus.
ADVERTISEMENT
Article continues below this ad
In a similar 2019 interview before his fight with Adrien Broner, Manny Pacquiao stated he is a better basketball player than his long-time bittersweet rival, Floyd Mayweather. In a follow-up since then, the Schmo asked Pacquiao about any updates on a potential basketball charity match against Mayweather.
ADVERTISEMENT
Article continues below this ad
Manny Pacquiao revealed he is trying to secure a 5v5 basketball match with 'Money' Mayweather. He shared his team will comprise professional basketball players from the Philipines and added that his 2015 opponent will also pick his own team.
"Oh, we're trying to set a game, 5 on 5, Philipines and his team. So, I can pick my own team in the Philipines and he can pick his own team," said Manny Pacquiao.
2015- The year of the greatest upset in boxing history
In 2015, two of the best welterweights on the planet finally met in the ring to settle scores once and for all. This was a turning point for the sport, as two of the top athletes agreed to a mega clash. This was a fight of the decade for most boxing purists and hardcore fans.
The sentiment of the fans and the magnitude of this matchup made this the biggest pay-per-view of all time. With 4.4 million net PPV buys, Pacquiao-Mayweather is still the highest-grossing event. 'Pretty Boy' closed the show with a unanimous decision victory over his opponent.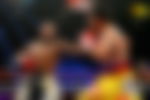 While many saw Pacquiao as the one to dethrone the undefeated American, Floyd Mayweather was never an easy opponent for him. Several boxing analysts and experts have highlighted before that the 'Filipino Senator' was not his usual self on that night against 'Money'. It was later revealed that Pacquiao had stepped into the fight with a shoulder injury, for which he had to get surgery soon after the fight.
Knowing this, fans of both corners felt unsettled. The boxing community immediately started calling out the duo for a rematch. Many still feel that Pacquiao could have gotten past Mayweather.
Manny Pacquiao – Floyd Mayweather II- Silver lining?
In September 2018, the duo once again sent the boxing world into a frenzy. In a video shared by ESPN, Floyd Mayweather and Manny Pacquiao came face to face in Tokyo. 'Money' was quick to approach him, then looked straight into the camera and announced that he will fight Manny Pacquiao again in December 2018.
Obviously, talks of the rematch soon fizzled out later that year. However, 2021 saw the idea of a rematch gain some traction again. Manny Pacquiao's promoter, Sean Gibbons called out Floyd Mayweather on Twitter in early January. He implied that 'The People's Champ' will send him into retirement once again.
ADVERTISEMENT
Article continues below this ad
The beef between the two is not over just yet. The 50-0 champ took shots at his old opponent by calling his desire to continue fighting professionally "sad". Manny Pacquiao clapped back at him by saying that he only wants to fight the best, and not just for the money. His revert to Mayweather's comment came soon after he fought Logan Paul in an 8-round exhibition.
ADVERTISEMENT
Article continues below this ad
This constant back and forth about charity basketball challenges beg the question- is this the end of the Pacquiao-Mayweather era? Or, could we see the two settle scores once and for all, one last time?
Watch this story – Top 5 Fan Favorite Boxers of All Time: Muhammad Ali, Mike Tyson, Manny Pacquiao, and More